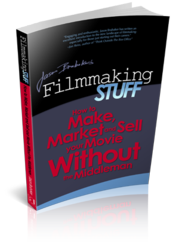 Filmmaking Stuff covers new techniques like crowdfunding, internet movie marketing and video on demand distribution
Hollywood, CA (PRWEB) October 08, 2012
If you ever wanted to become a filmmaker, but didn't have the money, know-how or freedom to pursue your dreams in Hollywood, you're in luck. A new book called Filmmaking Stuff shows filmmakers how to utilize state of the art techniques like crowdfunding, internet movie marketing and video on demand distribution to make movies from anywhere in the world.
Filmmaking Stuff: How To Make, Market And Sell Your Movie Without The Middle-Man was written by Jason Brubaker, a Hollywood-based independent filmmaker and an expert in Video On Demand distribution. He has run his popular filmmaking website, for years and has expanded his message in this book.
"Filmmaking Stuff does not offer information on 3-point lighting or how to set up dolly track. While all that how-to technical stuff is essential for physical production – This filmmaking book shows filmmakers how to actually get money, market and then sell your movie," said Brubaker.
Much like how iTunes revolutionized music, Brubaker says his work will revolutionize the filmmaking industry because, unlike other filmmaking books, Filmmaking Stuff is written by an actual producer who has made, marketed and sold movies without traditional film distribution. What's more, Brubaker says he shares his personal insights and experiences in marketing movies using modern platforms such as social media and internet marketing.
"There are lots of books that tell you the technical aspects of how to make a movie. This one answers the question you'll face when it's done: 'Now what?' If you care about having people actually pay to see your movie, get this book," said Jurgen Wolff, author of "Your Writing Coach"
In Filmmaking Stuff, Brubaker offers a solid how-to guide for filmmakers who want to leverage modern moviemaking innovations, take action and make a movie now.
In addition to making his own movies, Brubaker is a contributing author of The Independent's Guide to Film Distributors, he is the founder of Filmmaking Stuff, a professional resource for independent filmmakers, and his articles on independent movie marketing, distribution and film production have been featured in Film Slate, The Independent and Movie Maker Magazine.
To find out more and grab your copy of Filmmaking Stuff, visit: http://www.FilmmakingStuffBook.com