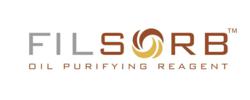 Processors of peanuts and tree nuts will love how Filsorb extends the life of their cooking oil,"
Kevin Hunter, National Sales Manager
Rochester Hills, MI (PRWEB) January 17, 2013
Filsorb XP20, the revolutionary oil reagent that extends the life of cooking oil, will debut at the Peanut and Tree Nut Processors (PTNPA) Convention on January 18-21, 2013 at the Westin Hotel in Rancho Mirage, California.
As peanut and tree nut processors try to control the high cost of cooking oil, more and more are discovering the remarkable value of Filsorb XP20.
Filsorb is a proven to extend the life of cooking oil ... requiring 20% less powder than the nearest competitive product.
Introduced at SNAXPO 2012, the oil-purifying reagent is an effective - and cost effective - way to combat the high price of cooking oil.
"We're excited with the success of Filsorb," said National Sales Manager, Kevin Hunter. "Our clients are realizing savings immediately. It took two years to perfect the formula in the lab, but the results are immediate."
Developed by Crystal Filtration, in Rochester Hills, Michigan, Filsorb XP20 helps frying oil stay cleaner longer while lowering free fatty acids (FFAs) up to 70 percent.
Filsorb XP20 also generates up to 50% less soap, resulting in much less foam. The formula is ideal for continuous treatment systems and batch treatments, especially at elevated temperatures over 300º.
Now in production in the United States, Filsorb is available to snack food manufacturers throughout North America.
About Filsorb
Filsorb XP 20, is owned by Crystal Filtration of Rochester Hills, Michigan. The company specializes in the design, development, manufacture and application of proprietary and patented filter media. In addition to its US facilities, Crystal Filtration has own warehousing centers in Mexico and Germany.
About Capital Letters
Capital Letters (http://www.capitallettersmarketing.com) is a business-to-business marketing company headquartered in Ann Arbor, Michigan. President Chris Hippler is a marketing strategist and team leader focused on securing results for clients through online and print media communications.