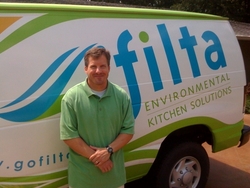 I get to save businesses time and money while helping the environment. It's a win win!
North Little Rock, AR (PRWEB) July 22, 2009
Little Rock has a new green business in town. Richard Hamilton has partnered with FiltaFry to offer an environmentally friendly service to restaurants and commercials kitchens, such as those found in school cafeterias. The company uses a ground breaking proprietary technology known as oil micro-filtration along with vacuum based cleaning techniques to extend the life of cooking oil, which improves the quality of food, prolongs equipment longevity, reduces the likely hood of burns, and contributes to a cleaner environment. Mr. Hamilton has gone the extra mile to use cooking oil that can no longer be filtered to power his biodiesel Filta Van.
By extending the life of oil, less waste is generated. When cooking oil is no longer able to be filtered, many franchisees deliver the used oil to biodiesel plants to be recycled. The down side to this is that biodiesel facilities are not yet available in every city. Mr. Hamilton solves this problem by taking his commitment to the environment one step further. He uses a special machine to convert the used cooking oil he collects into Biodiesel to power his mobile Filta Van. "I get to save businesses time and money while helping the environment. It's a win win!" stated Hamilton when asked about his decision to start a green mobile franchise.
Hamilton's FiltaFry oil micro-filtration service is already helping local businesses such as Pulaski County Special School District, Pulaski Tech - Arkansas Culinary School, St Vincent's Hospital, Arkansas State Hospital, Boston's Restaurant, On the Border Restaurant, Grampas Catfish, Pig n Chik BBQ, Franke's Cafeteria, and many others.
If you have not yet seen Hamilton's FiltaFry mobile service van in your area, expect to see it soon. The company is barely keeping pace with the number of new requests for free demonstrations of his service.
###