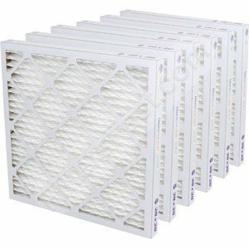 MERV 13 air filters are the highest recommended air filtration level for most residential applications.
Charlotte, NC (PRWEB) April 17, 2012
If you are purchasing your air filters from your local home improvement store, you could be making your allergies worse! Experts contend that we are experiencing one of the most dangerous allergy seasons in decades for those who suffer from allergies and asthma. Choosing the best air filter for your home protects your family from pollen and pet dander that can trigger intense symptoms for allergy sufferers. The fiberglass air filters sold in home improvement stores are usually rated at a less than 7 MERV rating. MERV is a rating used in the air filtration industry to measure the ability of an air filter to reduce small particles like dust, pollen and dander in the air. MERV is an acronym that stands for Minimum Efficiency Reporting Value. The higher the rating, the smaller the particles the filter removes from your indoor air.
"Many people suffer from allergies and do not realize that they can take control of their indoor air quality by using a high efficiency air filter. MERV 13 air filters are the highest recommended air filtration level for most residential applications. It is especially important that allergy sufferers have at least a MERV 8 filter. In fact, at FiltersFast.com, we don't even sell filters with less than a MERV 8 rating!" says Cartier King, Filtersfast.com Air Filtration Specialist certified by the National Air Filtration Association.
According to experts at Filtersfast.com, the industry leader on air filtration issues, there are different levels of measurement for an air filter's ability to remove particles of various sizes.
1. MERV 1 to 7 Filters. These filters provide minimal filtration. They are typically disposable fiberglass or synthetic panel filters within a cardboard frame and have to be replaced quite frequently.
2. MERV 8 Filters. This range of air filters will reduce pollen, pet dander, dust and other contaminants, as small as 3.0 microns. These air filters are good for capturing dust and mold spores.
3. MERV 11 Filters. Constructed with deep pleated, boxed media or bag filters, these are some of the most efficient air filters used in homes and commercial buildings. They increase efficiency and reduce allergens.
4. MERV 13 to 16 Air Filters. With the ability to trap up to 98% of airborne contaminants such as bacteria, tobacco smoke, cooking oil and droplet nuclei, these air furnace filters will capture allergens as small as 0.3 microns that trigger allergic reactions.
For the best performance of your furnace unit, air filters should be changed every 3 to 6 months depending on indoor air quality and usage.Get more advice for choosing the best air filter for your home during this allergy season at http://www.filtersfast.com.