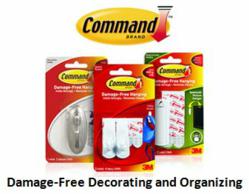 Command is the perfect solution when traditional hooks cannot be used. The Filtrete air purifier is one of the most quiet air purifiers out there.-Sharon Johnson, Sales Representative for 3M Construction & Home Improvement Markets
Charlotte, NC (PRWEB) December 10, 2012
Filtersfast.com, the leading online retailer of air filters and water filters, announces the Great 3M Command and 3M Filtrete Holiday Promotion for 2-days only. From December 11-12, all 3M Command cord clips, mounting strips, picture hangers and wall hooks will be reduced off of the already low prices. Additionally, Filtersfast.com will offer Complimentary Shipping on 3M Filtrete air and water filtration products in their stock assortment for this promotional event.
For damage-free decorating to hang garland, display holiday lights, Christmas ornaments, and stockings or to hide those unsightly power cords, the 3M Command products are ideal for taking care of these decorating and organizing tasks. Additionally, these adhesive products are great for closets, dorm rooms, kitchens, offices, laundry rooms, campers and mud rooms. Complimentary Shipping is available on 3M Filtrete filters, air purifiers, air cleaners, water filtration systems, the filtered water pitcher and 4-bottle water station. 3M Filtrete air purifiers bear the Energy Star symbol for energy efficiency, saving money and the environment. 3M Filtrete Office Air Cleaners purifies the air in office and other workspaces to reduce airborne contaminants that trigger Sick Building Syndrome (SBS).
Sharon Johnson, Sales Representative for 3M Construction & Home Improvement Markets states, "Command is the perfect solution when traditional hooks cannot be used. They leave no damage so there is no repair needed and have the strength to hold what is needed. The Filtrete air purifier is one of the most quiet air purifiers out there. It also captures ninety-six percent of large airborne allergens like pollen, mold spores and dust mite debris."
Take advantage of these great savings, as Filtersfast.com celebrates the holidays with affordable gift ideas from 3M Command and 3M Filtrete. Filtersfast.com remains fully committed to all things filtration and strives to add to their customer's overall quality of life by simplifying a sometimes mundane, but very necessary task. Offering first-rate products at the best competitive prices is their mission. For more information about their wide-range of air and water filtration products, along with cost-effective and practical gifts for the holidays, visit http://www.filtersfast.com.