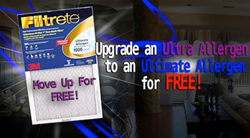 3M Filtrete Allergen Air filters meet the American Lung Association Health House Indoor Air Quality Guidelines.
Charlotte, NC (PRWEB) October 07, 2013
Filtersfast.com, the leading online retailer of air filters and water filters announces the last day of their 3M Filtrete Air Filter upgrade deal. Consumers still have time to take advantage of this energy-efficient and cost-effective promotion that occurs during a designated time frame or while supplies last. This step-up campaign ends Tuesday October 8, 2013.
Filtrete Home Filtration Products assist in capturing airborne particles to keep indoor air healthy, clean and fresh. They meet the American Lung Association Health House Indoor Air Quality Guidelines. When purchasing the 3M Filtrete (Purple) Ultra Allergen Air filter, consumers will be able to upgrade to the 3M Filtrete (Deep Blue) Ultimate Allergen Filter automatically. This deal applies to individual air filters or the 6-pack size, at no additional cost. The Filtrete Purple Ultra Allergen Air Filter boasts a Filtrete 1500 MPR (Microparticle Performance Rating). This air filter lasts for three months and captures airborne pollutants such as pollen, dust mites, mold spores, bacteria, smoke, pet dander, and virus-carrying particles.
The 3M Filtrete Move-Up Promotion gives customers the opportunity to buy a higher performance filter at the same price as the lower performance air filter in this offer. The Filtrete (Deep Blue) Ultimate Allergen Filter has the Filtrete 1900 Microparticle Performance Rating (MPR). This rating represents the effectiveness of a filter by capturing the smallest airborne particles measured in the industry standard test. As an allergy air filter, it provides 25% more air cleaning power than the Filtrete Ultra Allergen Reduction Filter. The 6-pack set of Filtrete Deep Blue Filters is ideal for customers having multiple air vent access panels in their home.
Since 2004, Filtersfast.com remains committed as the authoritative resource for consumers regarding the importance of changing residential and commercial water filters and air filters on a regular basis. Helping consumers understand the importance of regular water and air filtration maintenance is part of the company's mission statement. By saving customers time and money, they simplify a sometimes mundane, but very necessary task. The company strives to add to their customer's overall quality of life by offering first-rate products at the best competitive prices. For more information regarding their 3M Filtrete Move-Up Promotion, along with their large assortment of refrigerator filters, water filters, air filters, humidifier or pool and spa filters, visit http://www.filtersfast.com or call their Customer Experience Department at 1-866-438-3458.