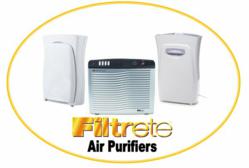 Filtrete air purifier is one of the most quiet air purifiers out there. -Sharon Johnson, Sales Representative for 3M Construction & Home Improvement Markets
Charlotte, NC (PRWEB) August 22, 2012
From now through September 15, Filtersfast.com is offering an exclusive promotion on select air purifiers from 3M Filtrete. With the purchase of the 3M Filtrete FAP00-RS Ultra Quiet Air Purifier, a free air filter replacement is included. Free shipping is offered on the FAP01-RS, FAP03-RS and OAC150 air purifier models.
In observance of National Back to School Month with a main focus on students returning to college, poor indoor air quality due to airborne building contaminants in dorms or campus apartments can lead to sick building syndrome (SBS). Sick Building Syndrome can occur when occupants spend time in a particular building, room or indoor space and experience acute health related symptoms or illnesses. Such symptoms include nausea, dry and itchy skin, fatigue, dizziness or irritation with your nose, throat and eyes.
3M is a recognized leader in research and development. Applying diversified technology in an array of consumer products and services is the driving force behind 3M's innovation. The 3M Filtrete FAP00-RS air purifier is the most quiet room air cleaner in its class, based on AHAM air purifier group. The OAC150 Office Air Cleaner has a 3-stage filtration process that includes the Filtrete filter media and ionization for removing airborne particles and carbon for odor reduction. With the FAP01-RS air purifier, 99.9% of mold spores, dust mites, pollen, bacteria and virus carrying particles are captured from your air. The Ultra Clean FAP03-RS model is designed to accommodate large rooms, provides 30% more air circulation and has a 41% higher pollen capture rate.
In a statement by Sharon Johnson, Sales Representative for 3M Construction & Home Improvement Markets, "The Filtrete air purifier is one of the most quiet air purifiers out there. It also captures 96% of large airborne allergens like pollen, mold spores and dust mite debris. Combine that with the easy filter change and you definitely get a fantastic product!"
3M Filtrete air purifiers bear the Energy Star symbol for energy efficiency, saving money and the environment. The government requires that an Energy Star air purifier must meet efficiency requirements, based on how much electricity it uses. Energy Star air purifiers are 44% more efficient than standard air cleaners. Not only will they help to reduce your energy bills, but will reduce greenhouse gas emissions as well.
As the leading online authority and resource in water filters and air filters since 2004, Filtersfast.com strives to add to their customer's overall quality of life, by offering first-rate products at the best competitive prices. For more information about the wide-range of air and water filtration products, as well as the line of 3M Filtrete Air Purifiers, visit http://www.filtersfast.com.