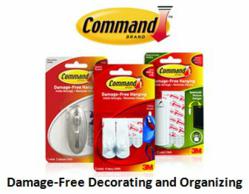 Command is the perfect solution when traditional hooks cannot be used. - Sharon K. Johnson, Sales Rep for 3M Construction & Home Improvement
Charlotte, NC (PRWEB) August 08, 2012
Filtersfast.com, the leading authoritative online resource for consumers in air filters and water filters, is promoting damage-free organizing and decorating products from 3M Command. Beginning August 1, in preparation for Back-to-School and Back-to-College, Filtersfast.com will offer free shipping on the assortment of 3M Command Hooks, Strips, Hangers and Clips.
The 3M Corporation has been around for more than a century now, developing innovative products to make organizing, decorating and maintenance easier for consumers around the world. The company has grown into a worldwide corporation with companies in over 60 countries. 3M Command products are a helpmate to a parent's wallet since many colleges, universities and apartments do not allow walls to be pierced with nails or screws. The assistance of a few cost effective tools will help students organize the myriad of things they return to college with.
According to Sharon K. Johnson, Sales Representative for 3M Construction & Home Improvement, "Command is the perfect solution when traditional hooks cannot be used. They leave no damage so there is no repair needed and have the strength to hold what is needed!"
3M's assortment of hooks, hanging strips and other adhesive products are ideal for closets, dorm rooms, bathrooms, laundry rooms, kitchens, offices, lockers, mud rooms and campers. The objective is to avoid putting unnecessary holes in walls with nails and screws. 3M Command products are perfect for organizing clutter, hanging pictures on the wall or hiding unsightly extension, cable or computer cords from view.
Transforming the ordinary into something spectacular is how 3M Command products encourage creativity for all users. From now through August 23, 2012, Filtersfast.com will award three lucky Pinterest winners who submit a personal photo of their most creative use or design project, by incorporating 3M Command products into the "Most Creative Use for 3M Command Products Contest."
Since 2004, Filtersfast.com strives to add to their customer's overall quality of life, by offering first-rate products at the best competitive prices. For more information about the wide-range of air and water filtration products, visit their website http://www.filtersfast.com.