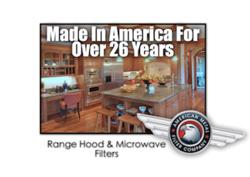 Made in America, for 26 years and counting. – American Metal Filter Company
Charlotte, NC (PRWEB) October 11, 2012
As the holiday season approaches, Filtersfast.com offers kitchen preparatory assistance from American Metal Filter Company. To ensure that cooking appliances are functioning at their peak performance, routine replacement of microwave oven and range hood filters will add improved ventilation and help kitchen appliances operate at their peak performance.
American Metal Filter Company (AMFCO) manufactures every shape and size of range hood and microwave oven filters available. With quality products proudly "Made in America" for over 26 years, the company asserts that if a desired size filter is not found among their list of popular stock sizes, they will manufacture the customer's exact filter size and ship it directly to them.
From October 15th through Thanksgiving, Filtersfast.com will offer an additional 5% off of their already low prices on all American Metal Filter Company products in their stock assortment. AMFCO filter products include range hood filters with light lens, carbon range hood filters, microwave range hood filters, oven hood range filters and universal trim-to-fit range hood filters.
Typically, the life span of a microwave oven or range hood filter lasts about 9 months to a year. American Metal Filter Company's aluminum mesh filters focus on grease extraction. The company offers the following advice while preparing the kitchen for the holidays: Clean kitchen appliance filters help to extract airborne grease, particulates and odors generated by kitchen stove-top, conventional oven and microwavable meal preparation. Grease filters should be cleaned regularly, while avoiding cleaning products that contain ammonia. Charcoal and Polysorb filters in over-the-range microwave ovens absorb pollutants based on the construction of tiny pores on the charcoal's surface, although the pore space is not infinite. It is important to remember that Carbon and Polysorb filters are disposable and not washable which should be replaced within 6 to 9 months. An aluminum mesh and carbon filter combination will both filter grease and odors from the cooking area. Routine cleaning of appliances on a regular basis will also ensure longevity and proper functioning of kitchen appliances.
Since 2004, Filtersfast.com is the leading online retailer of air filters and water filters. Fully committed to all things filtration, the company strives to add to their customer's overall quality of life by simplifying a sometimes mundane, but very necessary task. Filtersfast.com offers first-rate products at the best competitive prices. For more information about their wide-range of air and water filtration products, along with the assortment of American Metal Filter products, visit http://www.filtersfast.com.