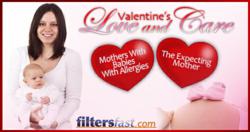 For children using Austin Air cleaners, the number of visits to the hospital was reduced by a remarkable 18.5%. -American Academy of Pediatrics
Charlotte, NC (PRWEB) February 05, 2013
Filtersfast.com, the leading online retailer in air filters and water filters, offers a portable and practical gift idea to help improve the indoor air quality in a baby's nursery. Just in time for Valentine's Day, from February 5 through February 19, 2013, with the purchase of an Austin Air HM205 Pink or Blue Baby's Breath Allergy Machine, customers will receive a pre-filter as a complimentary gift. The Austin Air Allergy Machine will help to reduce indoor allergens that triggers asthma and allergy symptoms affecting newborns and children.
Studies have shown that allergy-related illnesses are among the leading diagnosed chronic diseases in children, which is quite common. As reported by the American Academy of Pediatrics, for children using Austin Air cleaners the number of visits to the hospital was reduced by a remarkable 18.5%. This study monitored a group of 225 children over a 12 month period, to determine how the use of Austin Air cleaners could help to reduce the number of unscheduled hospital visits. Austin Air cleaners are certified to remove 99.97% of all airborne particles over 0.3 microns (a particle of 10 microns is invisible to the naked eye). By improving the quality of air for consumers, specifically those experiencing severe respiratory problems, Austin Air products can help to alleviate many symptoms associated with diseases such as asthma. The advanced filter technology combines Medical Grade HEPA and HEGA Carbon Cloth (High Efficiency Gas Absorption) and will effectively remove many asthma triggers such as dust mites, pollution, pet dander, molds, chemicals and tobacco smoke.
Since 2004, Filtersfast.com remains fully committed as the authoritative resource and leading online retailer in air and water filtration. The company strives to add to their customer's overall quality of life by simplifying a sometimes mundane, but very necessary task. They offer first-rate products at the best competitive prices. For more information about their wide-range of Austin Air Allergy Machines, water filters, air filters and refrigerator water filters, visit http://www.filtersfast.com or call their customer service department at 1-866-438-3458.