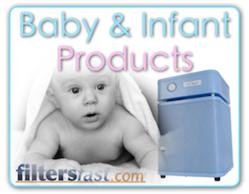 If you are on a tight budget, buying second hand is a good alternative, however it is vital you follow a few basic rules to ensure you aren't compromising safety for price. - JPMA
Charlotte, NC (PRWEB) September 26, 2012
During Baby Safety Month, Filtersfast.com offers an assortment of products for infants and toddlers that are often overlooked necessities. Knowing that parents are searching for cost-efficient baby gear, without sacrificing safety, is an important and personal subject for Filtersfast.com.
Since 1991, educating parents and caregivers on the importance of safety and selection of juvenile products is a campaign initiated by the Juvenile Products Manufacturers Association (JPMA), during the month of September. Among the regular safety checklist of tips that include childproofing one's home, checking car seats and cribs, eliminating anything that could cause strangulation, attention to stroller safety, along with securing medicines and unattended bathtubs, Filtersfast.com offers a few additional options to help infants safely transition through their developmental years.
Primarily, many parents do not realize how critical clean drinking water is to infants below 6 months of age. Drinking water contaminated with nitrite can trigger symptoms such as shortness of breath and blue baby syndrome. Blue baby syndrome is a condition stemming from a diagnosis of Cyanosis, which occurs when tissue near the surface of the skin lack oxygen. Typically, this causes infants to have a bluish or purplish discoloration on their skin. Testing water for nitrite could help to reduce such harmful symptoms.
Humidifiers are very useful for children suffering from cough and cold symptoms, congestion and respiratory issues. Using a handheld baby shower that features a small, easy-to-hold handle will help rinse shampoo and soap away from a baby's eyes. Air purifiers and air cleaners will help to decrease snoring, wheezing, sneezing and coughing, by reducing airborne allergens such as dust and pollen. Many air purification systems are also chosen by the American Red Cross and FEMA based on the manner they address air quality concerns. For additional options regarding infant products in commemoration of Baby Safety Month, be sure to check out Baby Safety Month: Protecting Your Bundle of Joy.
Since 2004, Filtersfast.com remains the leading online authority and resource in water filters and air filters. The company strives to add to their customer's overall quality of life, by offering first-rate products at the best competitive prices. For more information about their wide-range of air and water filtration products, visit http://www.filtersfast.com.