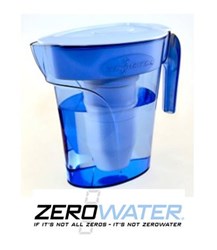 All of our pitchers and dispensers are BPA Free.-Robert K. Roney, Vice President of Sales for ZeroWater
Charlotte, NC (PRWEB) August 01, 2013
As the leading online retailer of air filters and water filters, Filtersfast.com introduces the latest addition to ZeroWater Drinking Purification Systems, just in time for Back-to-School or Back-to-College. With the introduction of the new ZeroWater 6-cup Water Filtration Pitcher, consumers will find that this compact water pitcher uses five sophisticated technologies that work to help remove practically all dissolved solids from tap water. This 6-cup pitcher is part of Filters Fast preview for "Back-to-College Days of Deals."
ZeroWater Ion Exchange water filtration systems remove virtually all dissolved solids from tap water, delivering pure-tasting water. With a patented 5-stage Dual-Ion Exchange Filtration System, the ZeroWater 6-cup is the only water filter pitcher to meet the FDA definition of TDS (Total Dissolved Solids) in purified water. This water filter pitcher features a Filter Change Indicator that lights up when it is time to change the filter. With the 5-stage ion exchange filter, clean water measures absolute "000" on the TDS meter.
According to Robert Roney, Vice President of Sales for ZeroWater, "Regarding eco-friendly/green initiatives, all of our pitchers and dispensers are BPA-free. We also have a recycle program for our filters. Consumers can send in their exhausted/used filters, and ZeroWater recycles the plastic and regenerates the resins in the filter. In return, for sending the filter back to be recycled, ZeroWater sends the consumer a coupon worth $10.00 off their next filter purchase." The new 6-cup ZeroWater Filtration Pitcher is specially priced for Back-to-College Days of Deals at $19.99. This pitcher is compact and is ideal for storing in dorm room refrigerators. Replacement filters are also available for these 6-cup filtration pitchers.
Filtersfast.com remains the authoritative resource for consumers regarding the importance of changing residential and commercial air filters and water filters on a regular basis. The company strives to add to their customer's overall quality of life by offering first-rate products at the best competitive prices. By simplifying a sometimes mundane but very necessary task, customers will find that regular water and air filtration maintenance will help home and commercial systems run at their optimum performance. For more information regarding their line of air filters, water filters, refrigerator filters, humidifier filters or the new ZeroWater 6-cup Water Filtration Pitcher, visit http://www.filtersfast.com or call their customer service department at 1-866-438-3458.