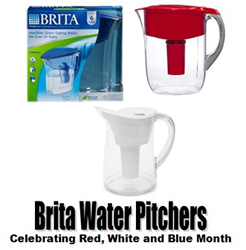 Brita water filtration systems reduces health contaminants and 96.6% of pharmaceuticals found in tap water. -Brita
Charlotte, NC (PRWEB) July 22, 2013
In celebration of "Red, White and Blue Month," Filtersfast.com promotes exclusive weekend deals on Brita red, white and blue filtered water pitchers. With the wide range of outdoor celebrations and activities taking place throughout the month, the technology of Brita filtration products helps health conscious consumers transform tap water into great tasting drinking water, by reducing the odor and taste of chlorine.
The Brita family of products is certified under the Water Quality Association (WQA) Gold Seal Product Certification Program. This seal identifies that Brita's line of products meet or exceeds industry standards to specific structural integrity, material safety and contaminant reduction. Filtersfast.com is promoting the following Brita Water Filtration Pitchers during this exclusive weekend deal during "Red, White and Blue Month": Brita Grand Red Water Filter Pitcher, Brita Atlantis White Filter Pitcher and Brita Classic Dark Blue Water Filter Pitcher.
The Red Brita Grand Water Filter Pitcher is the largest filtration pitcher available from Brita. It reduces mercury, cadmium, copper, and chlorine taste and odor. This pitcher features an electronic filter indicator and an ergonomic soft-grip handle. The White Brita Atlantis Filter Pitcher contains an ion exchange resin filter that reduces health contaminants and metallic taste found in tap water. The Blue Brita Classic Water Filter features advanced filtration that uses activated carbon, as well as an ion exchange resin. Brita water filtration systems also reduce 96.6% of pharmaceuticals including Acetaminophen, Carbamazepine, Estradiol, Naproxen and Progesterone.
Since 2004, Filtersfast.com remains fully committed as the authoritative resource in water and air filtration. The company strives to add to their customer's overall quality of life by simplifying a sometimes mundane, but very necessary task. They offer first-rate products at the best competitive prices. For more information about their wide assortment of water filters, air filters, refrigerator water filters, pool and spa filters, humidifier filters or Brita water filtration products, visit http://www.filtersfast.com or call customer service at 1-866-438-3458.