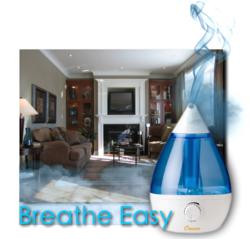 Dry air can be very irritating to your nasal passageways and throat. A steam humidifier will help to moisten and comfort those aggravated passageways, so that you will be up and running in no time! -Cartier King, NAFA CAFS
Charlotte, NC (PRWEB) November 27, 2012
Filtersfast.com, the leading online retailer of air filters and water filters suggests cold relief remedies from a working mom's point of view. With the onset of the cold and flu season, parents are trying to use alternative methods to steer clear of using cough and cold medications. To avoid possible side effects that certain medications can have on toddlers and small children, the Food and Drug Administration (FDA) recommends that parents should avoid treating children 6 years and younger with over-the-counter medicines. Filtersfast.com offers alternative methods for relieving nagging coughs, colds and stuffy noses.
Nutritional therapy, aromatherapy and herbal medicines are among alternative remedies for the common cold. One effective alternative remedy that Filtersfast.com suggests is through the use of a humidifier that is a trusted source for relief from a stuffy nose, colds and congestion. The Crane Digital Germ Defense Humidifier provides protection from cold symptoms, sinus irritation and nasal congestion. This humidifier works in a space up to 500 feet and provides 2.5 gallons of moisture output per day. Most parents will find the Austin Air Baby's Breath Allergy Machine is ideal for relief from colds, asthma and allergy symptoms that is associated with poor indoor air quality. By addressing external factors that can harbor severe coughs and colds while indoors, using a humidifier or air purifier is the best defense to treat dry indoor air, contaminants and pollutants that can trigger these symptoms.
According to Cartier King, NAFA CAFS with Filtersfast.com, "Dry air can be very irritating to your nasal passageways and throat. This can create vulnerability to infection, as well as prolong a cold. A steam humidifier will help to moisten and comfort those aggravated passageways, so that you will be up and running in no time! Buy your humidifier today and protect you and your family against the ills of the common cold this winter!"
Quite often, many consumers are confused about which humidifier is the best solution for their individual needs. Before making a costly investment, there are a few things to consider. First, think about the size of the room the humidifier will go in and second, select the type of humidifier that will address your specific needs. Read more about "What Type of Humidifier to Choose," before making a decision about which humidifier is the best buy for one's home or office.
Since 2004, Filtersfast.com remains fully committed to all things filtration and strives to add to their customer's overall quality of life by simplifying a sometimes mundane, but very necessary task. The company offers first-rate products at the best competitive prices. For more information about their wide-range of air and water filtration products, along with their variety of humidifiers and air purifiers, visit http://www.filtersfast.com.