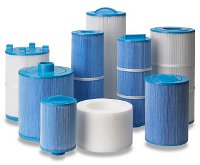 Our filters are produced to exact OEM specifications because we are the industry's leading OEM cartridge supplier. - Joe Marcotte, National Sales Manager for Filbur
Charlotte, NC (PRWEB) July 25, 2012
Filtersfast.com, the leading online retailer for air filters and water filters, announces the promotion of high quality pool and spa filter cartridges from Filbur Manufacturing. With triple digit summer temperatures triggering increased swimming pool usage, the water in pools and spas are susceptible to numerous environmental conditions and can require regular maintenance. During the month of August, Filbur Pool and Spa filters will offer customers an additional 10% off their already low prices on Filtersfast.com.
Filbur Manufacturing produces pool and spa filters to exact OEM specifications. Their grids are number one in quality and construction. Featuring 100% Polypropylene cloth that uses a higher denier and different weave pattern than the competition, better control of the fabric's permeability is allowed. Polypropylene is rot and mildew resistant, with excellent resistance to alkalis and acids. When compared to the leading OEM, Filbur grids have better dirt holding characteristics and lower pressure drop than the competition.
According to Joe Marcotte, National Sales Manager for Filbur, "Our filters are produced to exact OEM specifications because we are the industry's leading OEM cartridge supplier. We maintain strict specifications on all replacement cartridges and grids. We use industry proven Reemay Media with the proven Microban Antimicrobial technology. This prevents harmful bacteria from growing on the cartridge. Less bacteria results in a reduction of foul odors, algae, black mold and other harmful contaminants which foul a cartridge."
Filbur Manufacturing features Filbur Freedom™ Antimicrobial Pool and Spa Filter Cartridges that prevents harmful bacteria from growing on the cartridge. The Antimicrobial Protection lasts as long as the cartridge filters itself. Filbur filters are easier to clean than any other filter in the marketplace.
Filtersfast.com remains the authoritative resource for consumers since 2004, regarding the importance of changing residential and commercial air filters and water filters. Filtersfast.com strives to add to their customer's overall quality of life, by offering first-rate products at the best competitive prices. Visit http://www.filtersfast.com for more information about their vast assortment of air and water filtration products.