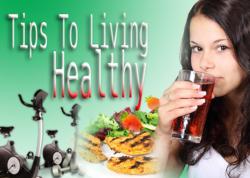 Starting and maintaining a healthy weight loss program is a journey. -Greg Shore, Triathlete
Charlotte, NC (PRWEB) January 09, 2013
Filtersfast.com, the leading online retailer of air filters and water filters, promotes healthy lifestyle tips in observance of National Staying Healthy Month in January. Throughout the month, the company will offer practical and cost-efficient tips on staying healthy, while making sure the home environment is prepared for a healthy checkup as well.
Health officials predict that consumers could be in the midst of one of the worst flu outbreaks ever. Emergency rooms and urgent care centers are diagnosing and treating more patients than last year. Healthy living requires a proactive approach to lifestyle changes and preventative measures. Instead of waiting to start a fitness program or get a prescription from the doctor for a potential illness, begin by making small, doable steps to stay healthy, consistent and optimistic.
According to Greg Shore, USA Triathlete, "Starting and maintaining a healthy weight loss program is a journey." He offers 5 simple and achievable tips to help with that journey: (a) Do a 30-minute walk a day with kids, friends or family (b) Get in 3 hours of exercise weekly by walking, biking or going to the gym (c) Gradually build exercise plans by making it a lifestyle instead of a chore (d) Gradually build your diet and (e) drink adequate amounts of water every day. In addition to the recommended eight, eight-ounce glasses of water to assist with weight loss, drinking water is beneficial in helping the immune system ward off cold and flu germs. Learn how water can fight off the cold and flu.
Since 2004, Filtersfast.com remains fully committed as the authoritative resource in air filters and water filters. The company offers first-rate products at the best competitive prices. They strive to add to their customer's overall quality of life by simplifying a sometimes mundane, yet very necessary task. For more information about their wide-range of water filters and air filters, visit http://www.filtersfast.com or call customer service at 1-866-438-3458. Be sure to subscribe to the Filters Fast YouTube Channel for a list of videos on cost-effective products and tips for a healthier lifestyle.