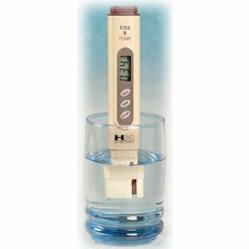 "The pH is one of the most important factors in pool water balance and it should be tested and corrected at least every week. Use HM Digital's pH meters to easily and quickly check the pH of your pool!" – Charles Lee, Managing Director for HM Digital, Inc
Charlotte, NC (PRWEB) July 05, 2012
HM Digital, Inc. offers a special gift with selected pH TDS meters at Filtersfast.com. From July 1-31, Filtersfast.com customers will receive a free HM Digital pH Buffer Solution with the purchase of the HM pH-200 Waterproof pH Meter. This pH 200 meter can be used for a variety of applications including boilers and cooling towers, water treatment, wine or coffee applications, ecology testing, hydroponics, aquaculture, pH testing and testing the water quality in pools and spas.
HM Digital, Inc., formerly known as Heemang Electronics, was established in 1987. This original equipment manufacturer (OEM) is recognized worldwide for providing the best values in water testing instruments, especially the popular TDS meter. High quality water testing and monitoring equipment for all types of water treatment and purification systems are sold in over 50 countries throughout the world. OEM services for customized products and private labeling are available. HM Digital, Inc. is the sole provider of electronic digital TDS meters included in all packages of ZeroWater Home Purification Filtration Systems. The TDS instruments prove that the performance of ZeroWater Water Filtration Systems remove all measurable dissolved solids.
According to Charles Lee, Managing Director for HM Digital, Inc., "HM Digital strives to provide higher quality products at more affordable prices. All of HM Digital's instruments, including its handheld testers, inline monitors and controllers, for TDS, EC, ORP, pH and other parameters, pack in more features and specifications than the competition, yet are available at the same or better price. The company's industry-leading warranties solidify the brand as the first choice in instrumentation."
Filtersfast.com carries an assortment of HM Digital TDS Meters, water quality testers, water filter monitors and replacement components. These economical TDS monitors measure total dissolved solids (TDS) levels, which is proven to be an effective way to compare rejection rates and gauge reverse osmosis (RO) membrane, water filter and water purification performance.
Since 2004, Filtersfast.com remains the authoritative resource for consumers, regarding the importance of changing residential and commercial air filters and water filters. By simplifying a sometimes mundane, but very necessary task, Filtersfast.com strives to add to their customer's overall quality of life, by offering first-rate products at the best competitive prices. For more information about air and water filtration products, visit http://www.filtersfast.com.