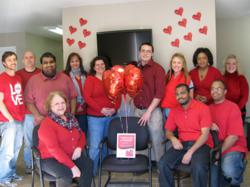 Heart disease still kills more women than all cancers combined. -American Heart Association
Charlotte, NC (PRWEB) February 07, 2013
On Friday February 1, 2013, employees of Filtersfast.com joined nationwide organizations, businesses, educational institutions, governmental agencies and healthcare systems to celebrate National Wear Red Day in the "America Goes Red Challenge." At Filtersfast.com, the leading online retailer of air filters and water filters, employees commemorated Women's Heart Health Month and American Heart Month, by wearing red to show their support in the fight for women's heart health.
The American Heart Association formed the "Go Red for Women" campaign, which is designed to empower women to take charge of the health and wellness of their heart and to raise awareness about this critical disease. According to the American Heart Association, "Heart disease still kills more women than all cancers combined. Cardiovascular disease claimed the lives of nearly 500,000 American women each year." With these statistics, many dispelled the idea that this disease is an "older man's disease." Since the initial National Wear Red Day began ten years ago, 21% fewer women died from this disease.
Cardiovascular disease is a subject that is near and dear to the hearts of so many employees in the Filtersfast.com family. Employees also paid tribute to both men and women, whether they were family members, friends, teachers or co-workers, by filling out the honorees names on specially designed red hearts, whether "In Honor Of" or "In Memory Of" to post on a wall in the company, designated as the "Wall of Hearts" for the month.
Since 2004, Filtersfast.com remains fully committed as the authoritative resource in air filters and water filters. The company strives to add to their customer's overall quality of life by simplifying a sometimes mundane, but very necessary task. They offer first-rate products at the best competitive prices. For more information about their wide-range of water filters, air filters and refrigerator water filters, visit http://www.filtersfast.com or call customer service at 1-866-438-3458.