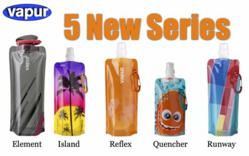 Since its launch, Vapur has always been a brand guided by innovation, design and well, fun. - Jenny Guy, Vapur Marketing Manager
Charlotte, NC (PRWEB) August 15, 2012
Vapur Inc. is pleased to announce the launch of their newest fashion forward designs of collapsible water bottles on Filtersfast.com. The latest styles of water bottles consist of the Reflex, Runway, Element, Quencher and Island Series. The new reinforcing grommets and custom clips make Vapur's foldable water bottles the ultimate fashion accessory in hydration vessels.
Based in California, Vapur Inc. is one of the world's leading designers of reusable, collapsible and portable water bottles, decorated in fun, dazzling colors and motifs. Reflex is perfect for outdoor concerts, to take to the beach or on picnics. Element is great to carry when running, walking, working out in the gym or hiking. Quencher, which is the new children's line, can be tucked away in a child's backpack for school or used while they are playing outside. The Runway line is ideal for the fashion conscious aficionado. The Island Series is designed for any tropical loving admirer.
Jenny Guy, Marketing Manager for Vapur, Inc states, "Since its launch, Vapur has always been a brand guided by innovation, design and well, fun. The evolution of the new Quencher line has simply been an extension of our mission to make water more portable than ever, but (this time) we took a moment to get in touch with our inner child. Creating the Quenchers has been a blast ...and a lot of hard work. We wanted to develop a product that kids would absolutely love and that would not only help keep them hydrated, but would also educate them on the importance of using reusable water bottles. After about a year of designing, prototyping and character development, the Quenchers finally arrived. Now, these four lovable characters are on a mission to keep kids everywhere happy, healthy and hydrated while giving waste the boot!"
Vapur Bottles are manufactured in the United States, and are ultra-durable, freezable, dishwasher-safe and BPA-free. The team at Vapur is committed to innovation, eco-responsibility and classic designs. With their commitment to raising awareness about the global water crisis and empowering people to make a difference through their drinking water choices, Vapur contributes a portion of all Vapur sales through their community-giving program, "Drops of Hope." These collapsible, reusable water bottles use less energy to make and transport than traditional, nonflexible bottles. Vapur is also working with charitable groups around the world to help make disposable bottles obsolete and the availability of clean drinking water accessible to those who do not have it.
As the leading online authority and resource in water filters and air filters since 2004, Filtersfast.com strives to add to their customer's overall quality of life, by offering first-rate products at the best competitive prices. For more information about the wide-range of air and water filtration products, as well as the introduction of the new products like the Vapur water bottles, visit their website http://www.filtersfast.com.