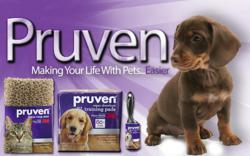 Now we're bringing 3M technologies to the pet aisle, with a comprehensive line of branded solutions for tough pet problems. -Kathleen Harrington, 3M Marketing Manager
Charlotte, NC (PRWEB) January 16, 2013
Filtersfast.com proudly announces the introduction of the Pruven line of pet care products by 3M. Pruven pet products are designed to assist pet owners with house training their pets, waste and odor management. Since many people received pets as Christmas gifts, house training can be a challenging job. Pet owners are looking for innovative products that will help with the special needs of new indoor pets, as well as that of aging pets.
For over 50 years, Scotchgard has been a trusted name in protection technology. According to 3M, Pruven Oxy Powered Stain and Odor Remover, features anti-restaining technology from the Scotchgard Brand to help furniture, carpet, rugs and other household items look good longer. The new Pruven line of pet products includes training pads, kitty litter mats, training sprays, fur management, waste management, stain and odor removers. 3M Pruven Products have pet clean-up down to a science. Their line of pet products features Scotch Brand, Scotchgard Protector and Scotch-Brite technology.
In a statement from Kathleen Harrington, Marketing Manager with 3M Pet Business, "3M is known for delivering innovative solutions for everyday needs. Now we're bringing 3M technologies to the pet aisle — with a comprehensive line of branded solutions for tough pet problems, including training, shedding and accidents. Products that are simple, practical and effective, for a healthier and happier life for you and your furry friend. You love your pet, we'll take care of the rest."
Since 2004, Filtersfast.com remains fully committed as the leading online retail authority in air filters and water filters. The company offers first-rate products at the best competitive prices. They strive to add to their customer's overall quality of life by simplifying a sometimes mundane, yet very necessary task. For more information about their wide-range of water filters and air filters, or to check out their assortment of Pruven Pet Care Products, visit http://www.filtersfast.com or call customer service at 1-866-438-3458. Be sure to subscribe to the Filters Fast YouTube Channel for a list of all videos regarding cost-effective tips, services and products for the home. As an extra incentive for Filtersfast.com Facebook followers, enter their Facebook "This Is Why I Love My Pet" Giveaway.