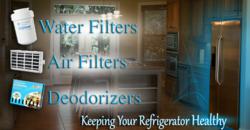 You should change your refrigerator water filter on a regular basis to be certain you are drinking healthy water. Dirt and contaminants can accumulate on the filter cartridge over time and may reduce water flow. -Alex Hertzog, Filters Fast CWS
Charlotte, NC (PRWEB) January 23, 2013
As part of this month's celebration for National Staying Healthy Month, Filtersfast.com, the leading online retailer of water filters and air filters, offers solutions for one of the most neglected, yet frequently used kitchen appliances in the home: the refrigerator. Keeping the fridge clean and well maintained will help to avoid potential health risks, due to the presence of bacteria and other hidden contaminants. Often, preventable measures such as regularly scheduled refrigerator water filter and air filter changes will help to deter bacterial growth that can affect water and ice.
According to Alex Hertzog, Certified Water Specialist with Filtersfast.com, "You should change your refrigerator water filter on a regular basis to be certain you are drinking healthy water. Dirt and contaminants can accumulate on the filter cartridge over time and may reduce water flow significantly. Danger exists if the accumulated contaminants that are suspended on the filter cartridge runs off into your drinking water and ice. These contaminants may have been on the cartridge for an extended period of time, and possibly grow bacteria. Without regular filter changes, you may be drinking unhealthful water."
Refrigerators equipped with water and ice dispensers should have their refrigerator water filters and air filters changed as recommended by the manufacturer. To avoid the opportunity for bacteria and pathogens to incubate on surfaces where food and beverages are stored, be sure to maintain appropriate temperatures and keep the refrigerator sanitized to avoid the spread of germs. While stocking the refrigerator with healthy foods, keep in mind that there are three important filters to keep the refrigerator healthy.
Since 2004, Filtersfast.com remains fully committed as the authoritative resource in air filters and water filters. The company strives to add to their customer's overall quality of life by simplifying a sometimes mundane, but very necessary task. They offer first-rate products at the best competitive prices. For more information about their wide-range of water filters, air filters and refrigerator water filters, visit http://www.filtersfast.com or call customer service at 1-866-438-3458.