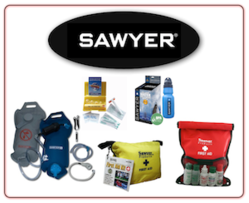 A filter you can pass onto your grandchildren. Patrick Hurst, Sawyer Products
Charlotte, NC (PRWEB) September 13, 2012
Filtersfast.com announces the launch of a new line of emergency and survival products from Sawyer. As the nation commemorates Patriot Day and National Emergency Responders Day, there are reoccurring cases where many people are ill-prepared and caught off guard when an emergency situation occurs. Preparing for an emergency extends beyond the basic flashlight, milk and bread that many rush to buy at the onset of a major storm.
Sawyer manufactures world-class water filtration products, sunscreens, insect repellents and outdoor protection supplies. Since 1984, Sawyer has offered the finest and most technologically advanced solutions for protection against such things as the sun, bug bites and water contamination. From first-aid kits developed for wilderness adventure to the newest topical insect repellents that use time-released liposome technology, Sawyer is dedicated to eliminating two of the biggest causes of death in the world: contaminated water and disease carrying mosquito bites.
In 1999, Sawyer acquired Coulston Products who helped to develop the use of permethrin, an insect repellent treatment for clothing that provides protection for U.S. troops and outdoor enthusiasts. Sawyer partnered with over 100 different organizations in more than 70 countries and with the World Health Organization (WHO) to conduct underlying studies that lead to the widespread use of repellent on mosquito netting. Today, Sawyer sells the number one brand of permethrin in retail stores.
Using advanced kidney dialysis filtration technology, Sawyer's hollow fiber membrane filter is the fastest, easiest and most efficient way to deliver clean water anywhere. The advantage of these hollow fiber membrane filters is based on their small portable size that don't require chemicals, a power source or trained operator for use or maintenance. The effectiveness of this innovative membrane filter, gets a seal of approval in this statement from Patrick Hurst with Sawyer Products, "A filter you can pass onto your grandchildren."
Since 2004, Filtersfast.com remains the leading online authority and resource in water filters and air filters. The company strives to add to their customer's overall quality of life, by offering first-rate products at the best competitive prices. For more information about the wide-range of air and water filtration products, as well as the introduction of the new emergency relief products from Sawyer, visit their website http://www.filtersfast.com.