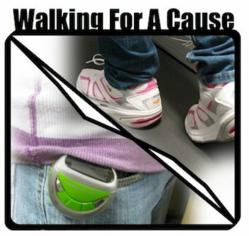 Walk for you. Walk for them. - The W3 Project
Charlotte, NC (PRWEB) July 26, 2012
Filtersfast.com, the largest online retailer of air filters and water filters, announce some exciting additions to their corporate social responsibility initiatives. Taking steps to bring greater awareness to help the environment and aid in the support of providing clean drinking water for people around the world who do not have access to this pure, precious resource is the mission for Filtersfast.com employees.
As partners of The W3 Project, the Filtersfast.com workforce, along with Wine to Water and TrekDesk Treadmill Desks are building a community of humanitarians who walk in the pursuit of health and wellness for everyone. In the same regard, raising awareness about the small steps individuals can take to help decrease the obesity problem plaguing this country is a concern the employees are passionate about. The project collects mile donations to inspire everyone to reach their fitness goals while helping others.
From every department of the Filtersfast.com team, employees are committed to participating in philanthropic projects to give back to the community. Many office personnel are walking daily on TrekDesk Treadmill Desks, and then donating the miles each person walks to The W3 Project. Warehouse staff members are using pedometers to track and donate the miles each employee walks, while carrying out their daily job responsibilities. Aluminum cans are collected in designated recycling bins and redeemed for money that is then donated to The W3 Project.
Filtersfast.com will soon implement additional options for customers who would like to support The W3 Project. Details about that program are forthcoming. For now, everyone has two options on how they can get involved and support this benevolent venture. Simply visit http://www.filtersfast.com/w3 and select "Donate Miles" or "Sponsor Miles." Aside from the total miles donated by individuals, a significant amount of the mile donations are from running clubs, cyclists, hikers, school sports teams, dance classes, elementary through high school students, church congregations, college sororities and fraternities. With each dollar donated to The W3 Project, one dollar will provide one year of clean drinking water for one person.
Since 2004, Filtersfast.com remains the authoritative resource for consumers, regarding the importance of changing residential and commercial air filters and water filters. By simplifying a sometimes mundane, but very necessary task, Filtersfast.com strives to add to their customer's overall quality of life, by offering first-rate products at the best competitive prices. For more information about air and water filtration products or to sign up for the free Filters Fast monthly newsletter, visit http://www.filtersfast.com.