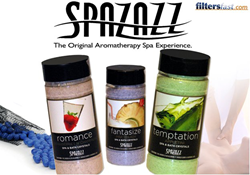 Spazazz, the Original Aromatherapy Spa Experience, has over 20 Years of success. -Angie Pettro
Charlotte, NC (PRWEB) June 18, 2013
Filtersfast.com, recognized as the leading online retailer in air filters and water filters introduces Spazazz Aromatherapy Spa & Bath Crystals. Relaxation therapy is the ideal indulgence for helping to reduce stress and anxiety. The Spazazz line of aromatherapy products gives consumers their own unique spa experience, by creating unique blends of high quality, long lasting aromatherapy products to bring the luxury of the "Day Spa" experience home.
Spazazz Spa & Bath products are specially formulated for using in the spa or bath. Family owned and operated since 1993, the strength of Spazazz lies in its innovativeness, as they strive to produce the highest quality aromatherapy. The company's all-natural blends of sensual aromas and moisturizing botanicals are spa safe and oil-free. The therapeutic benefits of the Spazazz line of bath and spa products are extensive. They act as a natural remedy for aches and pains, an anti-flammatory, a skin moisturizer and a muscle relaxant for tension and stress.
According to Angie Pettro with Spazazz, "Spazazz, the Original Aromatherapy Spa Experience, has over 20 Years of success. Our highly concentrated, all natural sensual blends, with their therapeutic benefits have become a great success globally. Spazazz Aromatherapy Spa & Bath Crystals set the mood, arouse emotion and relax your state of mind, with our naturally colorful and fragrant aromatherapy crystals. Whether it's Romance, Peace of Mind or Well-Being, Spazazz will enhance your spa or bath experience, while the therapeutic benefits last even longer. Therapeutic Benefits include: a natural remedy for aches & pains, anti-inflammatory, increases circulation, muscle relaxants for tension & stress, enhancements of innate self-healing capabilities, helps eliminate toxins, skin pampering moisturizers and water softening."
Spazazz was recently awarded "Top 50 Products" by Pool & Spa News. The vision at Spazazz believes that their fragrance should smell good and help customers feel good. They lead the industry in aromatherapy spa products that has been tested and is safe for all hot tubs and jetted baths. For a limited time only, with any Spazazz purchase on Filtersfast.com, receive 4 ounces of spa crystals as a free gift.
Since 2004, Filtersfast.com remains fully committed as the authoritative resource in air filters and water filters. They strive to add to their customer's overall quality of life, by simplifying a sometimes mundane, yet very necessary task with regular filtration maintenance. Filtersfast.com offers first-rate products at the best competitive prices. For more information about their wide range of refrigerator water filters, air filters or the Spazazz collection of aromatherapy bath and spa crystals, visit http://www.filtersfast.com or call their customer service department at 1-866-2438-3458.