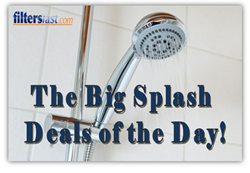 Sprite's designs use a combination of aesthetics and function to provide superior products. -Sprite Showers
Charlotte, NC (PRWEB) June 07, 2013
Filtersfast.com, the leading online retailer in air filters and water filters announces promotional Deals of the Day featuring Sprite HO-WH-M High Output Massage Showerhead Filters and Sprite SFH5-C Multi-Position Showerhead Filters. Sprite introduced the Shower-Mite, a non-carbon shower filter in 1987. Since that time, Sprite produced more than 10 different shower filter models. Today, Sprite is known as the premier authority in shower filtration technology and manufacturing.
Sprite Industries, Inc. has manufactured water instruments, electronic water instrumentation, filtration products and water filters for 39 years. The company has over twenty-three patents and proprietary filtration technologies, while continuing to remain the leader in these areas. Their mission is to provide superior products through their designs, by using a combination of aesthetics and function. Sprite showerhead filters will provide softer hair, smoother skin and help individuals to breathe easier. These filters will not only give consumers a unique showering experience, but are ideal for individuals concerned about their health and beauty.
As part of today's promotional Deals of the Day, Filtersfast.com is offering the Sprite SFH5-C Multi-Position Showerhead Filter and the Sprite HO-WH-M High Output Massage Filter for customers interested in updating their current shower fixture or giving one as a gift. Most Sprite products are NSF (National Science Foundation) Certified to Standard #177 for shower filtration. This type of certification is different from products that solely claim NSF Certified Filtration Media. Sprite Industries, Inc. invested a lot of research into developing a line of realistic catalytic showerhead filters that filter dirt, sediment, odors, hydrogen sulfide, both free and combined chlorines, iron oxides and other waterborne contaminants from shower water.
Filtersfast.com strives to add to their customer's overall quality of life, by simplifying a sometimes mundane, yet very necessary task with regular filtration maintenance. The company remains fully committed as the authoritative resource in air filters and water filters. They offer first-rate products at the best competitive prices. For more information about Sprite Showerhead Water Filters, along with their wide range of refrigerator water filters and air filters, visit http://www.filtersfast.com or call their customer service department at 1-866-2438-3458.