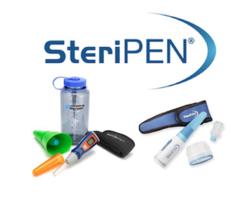 See Water in a Whole New Light. -SteriPEN
Charlotte, NC (PRWEB) October 10, 2012
Filtersfast.com, the leading online authority and resource in water filters and air filters announces the launch of the first and fastest line of portable UV water purifiers available from SteriPEN. Earning the Water Quality Association's Gold Seal, which certifies its effectiveness and efficiency, SteriPEN uses ultraviolet light to purify and make drinking water safe.
Miles Maiden, devoted outdoorsman and founder of Hydro-Photon, Inc., dedicated himself to the development of ultraviolet technology, for the purpose of using in a personal and portable device to provide safe drinking water anywhere. In 2001, TIME Magazine named SteriPEN as one of the "Best Inventions of the Year." Within seconds, SteriPEN is known to eliminate over 99.9% of viruses, bacteria and protozoa, such as Giardia and Cryptosporidium, which causes waterborne illnesses. SteriPEN's speed, portability and effectiveness are very impressive to users and the general public. The SteriPen declaration is "See Water in a Whole New Light!"
According to a statement by the Environmental Protection Agency (EPA) who officially recognized the use of ultraviolet as a proven, viable technology in 1996, "Ultraviolet (UV) radiation has been found to be an effective disinfectant; a useful small systems disinfection technology option." As ultraviolet energy is emitted by light and absorbed by cells of the microbe, UV purification works when cell enzymes are prevented from reading its DNA.
SteriPEN is a powerful, user-friendly alternative to filters, chemicals and pumps. Portability gives hikers, travelers and campers easier access to safe drinking water. SteriPEN products are also ideal for emergency preparedness. Their common goal is to deliver tested, inspected and flawless products to their customers.
Since 2004, Filtersfast.com is fully committed to all things filtration, which can improve personal health and allow for a more sustainable environment. The company strives to add to their customer's overall quality of life by simplifying a sometimes mundane, but very necessary task and offering first-rate products at the best competitive prices. For more information about their wide-range of air and water filtration products, visit http://www.filtersfast.com.