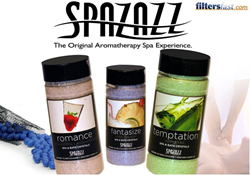 Spazazz aromatherapy spa & bath crystals set the mood, arouse emotion and relax your state of mind, with our naturally colorful and fragrant aromatherapy crystals. - Angie Pettro, Spazazz
Charlotte, NC (PRWEB) August 22, 2013
Filtersfast.com, the leading online retailer of water filters and air filters kicks off "The Good Old Summertime of Savings" celebration with a gift offer from Spazazz. To enhance the therapeutic relaxation experience in their customer's bath or spa, with any Spazazz aromatherapy spa and bath product purchased on Filtersfast.com, customers will receive a complimentary 4 oz. container of spa crystals.
As a family owned business since 1993, Spazazz aromatherapy spa and bath products act as a natural remedy for aches and pains, an anti-flammatory, a skin moisturizer and a muscle relaxant for tension and stress. The therapeutic benefits of the Spazazz line of bath and spa products are extensive and designed to give consumers a unique spa experience, by helping to reduce anxiety and stress. The strength of Spazazz lies in the innovativeness of their specially formulated line of products.
According to Angie Pettro with Spazazz, "Spazazz, the original aromatherapy spa experience, has over 20 Years of success. Our highly concentrated, all natural sensual blends, with their therapeutic benefits have become a great success globally. Spazazz aromatherapy spa & bath crystals set the mood, arouse emotion and relax your state of mind, with our naturally colorful and fragrant aromatherapy crystals."
Since 2004, Filtersfast.com remains committed as the authoritative resource for consumers regarding the importance of changing residential and commercial water filters and air filters on a regular basis. The company strives to add to their customer's overall quality of life by offering first-rate products at the best competitive prices. By saving customers time and money, they simplify a sometimes mundane, but very necessary task. Helping consumers understand the importance of regular water and air filtration maintenance, supplying stellar customer service, while helping them conserve energy is the company's primary objective. For more information regarding their assortment of water filters, air filters, faucet filters, pool and spa filters, or any of their Spazazz aromatherapy spa and bath products, visit http://www.filtersfast.com or call their customer service department at 1-866-438-3458.