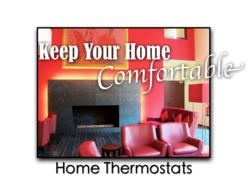 According to EnergyStar, homeowners can reduce energy costs by about $180 per year, by simply changing their thermostat. Buy a digital, programmable thermostat today and stop wasting money! -Alex Hertzog, Filtersfast.com CWS II
Charlotte, NC (PRWEB) November 14, 2012
As the leading online retailer of air filters and water filters, Filtersfast.com offers consumers cost-effective thermostats for their home. The company added a variety of programmable, non-programmable and wireless thermostats covering a wide range of prices and functionality. With the fluctuation in atmospheric pressure and its unpredictable effects on climate and temperature control, consumers are looking for efficient ways to save money and energy.
By regulating specific heating and cooling needs, choosing the right thermostat to operate seasonal in-home temperatures will make a huge impact on the comfort, convenience, quality of life, energy-efficiency and budget of homeowners. When selecting a thermostat there are important things to consider before making that purchase. Alex Hertzog, Filtersfast.com CWS II expert suggests, "According to EnergyStar, homeowners can reduce energy costs by about $180 per year, by simply changing their thermostat. Buy a digital, programmable thermostat today and stop wasting money!"
Advanced technology transformed manually operated thermostats into new and improved digital systems with enhanced functionality and efficiency. By identifying the home's heating and cooling system, consumers can choose the type of thermostat and options that will suit their lifestyle and household budget. Non-programmable thermostats are capable of regulating the temperature in a room, but must be manually changed if a new temperature setting is desired. Programmable thermostats have the ability to adjust the temperature according to a series of programmed settings and are ideal for individuals on-the-go. Wireless remote thermostats automatically control HVAC systems through the use of a remote connection such as the RedLINK Wireless Internet Gateway technology.
Filtersfast.com offers first-rate products at the best competitive prices. Since 2004, the company remains the online retail leader of air filters and water filters. Fully committed to all things filtration, Filtersfast.com strives to add to their customer's overall quality of life by simplifying a sometimes mundane, but very necessary task. For more information about their wide-range of air and water filtration products, along with their assortment of thermostats, visit http://www.filtersfast.com.