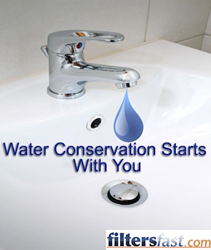 We're offering great deals and F-R-E-E Shipping on orders over $99 this weekend only, in celebration of National Water Quality Month. -Filtersfast.com
Charlotte, NC (PRWEB) August 09, 2013
Filtersfast.com, the leading online retailer of water filters and air filters celebrates National Water Quality Month with exclusive weekend clearance specials. Emphasizing the importance of water conservation and maintaining good water quality for residential and commercial consumers, Filtersfast.com offers free shipping from August 9 through August 11 on any orders of $99.00 or more from their website.
National Water Quality Month, which is celebrated during the month of August, focuses primarily on drinking water standards to protect the health of the public, by regulating the level of waterborne contaminants in drinking water. In addition, water conservation is a critical concern that consumers must take seriously. Water shortage is a hot topic globally and consumers can prevent the amount of water wasted by watching for leaks and reducing water waste in their homes.
To help consumers with cost-efficient options to conserve water and to provide clean drinking water in their homes, Filtersfast.com offers exclusive "Deals and Clearance" items to help customers make better water quality choices at reduced prices. To also sweeten the special deals on water filtration items, consumers can take advantage of free shipping on any orders of $99.00 and over from their website this weekend only.
Filtersfast.com remains committed to consumers as the authoritative resource regarding the importance of changing residential and commercial water filters and air filters as recommended. The company strives to add to their customer's overall quality of life by offering first-rate products at the best competitive prices. They simplify a sometimes mundane, yet very necessary task, by helping customers understand the importance of regular water and air filtration maintenance. For more information regarding their assortment of water filtration systems, air filters, pool and spa filters, faucet filters, humidifier filters, or their amazing National Water Quality Month weekend deals and shipping offer, visit http://www.filtersfast.com or call their customer service department at 1-866-438-3458.