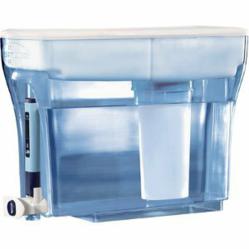 Consumers can send in their exhausted/used filters and ZeroWater recycles the plastic and regenerates the resins in the filter. - Robert Roney, VP of Sales
Charlotte, NC (PRWEB) June 13, 2012
Filtersfast.com, the leading online retailer in water and air filters announces an eco-friendly promotion with ZeroWater Home Purification Filtration Systems. ZeroWater, the world's first Dual-Ion Exchange filter pitcher system is giving away a complimentary gift with purchase on specially selected items for Father's Day carried on Filtersfast.com. ZeroWater was recently named a "Filter that really works" in Good Housekeeping Magazine and appeared in a special segment on The Today Show.
ZeroWater Filtration Systems are certified by NSF International and the Water Quality Association. It enables water drinkers to enjoy the taste and purity of purified bottled water without the cost and waste of plastic bottles. No other filter can make such a claim. By removing virtually all TDS (Total Dissolved Solids) from your drinking water, ZeroWater is the only filter pitcher to meet the FDA definition of TDS in Purified Bottled Water. Each water filter pitcher includes an independent TDS meter for measuring clean water quality. The 5-stage ion-exchange filter provides clean water that measures absolute "000" on the TDS meter, which rivals most bottled and tap water containing measurable amounts of dissolved substances.
Through June 15, 2012, with the purchase of a ZeroWater ZD-018 23-CupWater Filtration Pitcher or ZeroWater ZD-013 8-Cup Water Filtration Pitcher, receive a complimentary ZR-001 replacement filter cartridge. With the purchase of the ZeroWater ZJ-003 Water Cooler Bottle Filtration System, receive a complimentary ZR-017 filter cartridge replacement. These replacement cartridge filters are recyclable. With a ZeroWater filtration unit, it will cost as little as 50 cents per gallon to have purified-quality water.
According to Robert Roney, Vice President of Sales for ZeroWater, "Regarding eco-friendly/green initiatives, all of our pitchers and dispensers are BPA Free. We also have a recycle program for our filters. Consumers can send in their exhausted/used filters and ZeroWater recycles the plastic and regenerates the resins in the filter. In return, for sending the filter back to be recycled, ZeroWater sends the consumer a coupon worth $10.00 off their next filter purchase." The average household can eliminate up to 2,800 plastic PET bottles per year, based on one gallon of water consumed per day. By using ZeroWater Filtration Pitchers and Cooler Bottles, consumers will help to reduce plastic bottle waste and make the environment clean and sustainable.
Since 2004, Filtersfast.com remains the authoritative resource for consumers, regarding the importance of changing residential and commercial air filters and water filters. By simplifying a sometimes mundane, but very necessary task, Filtersfast.com strives to add to their customer's overall quality of life by offering first-rate products at the best competitive prices. For more information visit http://www.filtersfast.com.