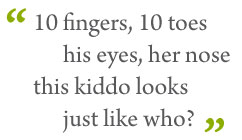 (PRWEB) May 21, 2013
Finagle today officially launched Just Like Who? – a website that unequivocally answers the age-old question: who does baby really look like - mommy or daddy? This fun service can be summed up in rhyme:
10 fingers, 10 toes
His eyes, her nose
This kiddo looks
Just Like Who?
"As parents, my wife and I were struck by the inconsistency in the comments about the resemblance of our children. And in our home, it became a playful bone of contention. With all the uncertainty in life, it's important for parents to gain some honest insight into whether their child looks more like them or their spouse. Silly or not, it's important," says David Repas, creator of Just Like Who?
"Not only is this service incredibly entertaining to new parents, it's quite amusing to friends and family as well. Besides, what parent doesn't want bragging rights to the appearance of their adorable baby?"
Participation is quite simple. Parents simply upload a picture of mom, dad, and baby. They can then invite friends and family to vote on who most resembles their baby – either sharing via email or social media. To gain even greater transparency and accuracy, the general public can also visit the Just Like Who? website and vote on families from around the world, to provide unbiased and diverse results.
Create your poll and cast your vote today at http://www.JustLikeWho.com
About Just Like Who?
Just Like Who? allows parents to create and distribute via email or social media a poll to answer the age-old question: who does my child look like - mommy or daddy? Founded and launched in May 2013, Just Like Who? was developed by David Repas and is backed by Finagle, Inc. For more information, visit http://www.JustLikeWho.com
About Finagle
Finagle allows its users to quickly discover thousands of brands in a uniquely visual and relevant way. A public preview of the service was launched in September 2012. For more information, visit http://www.finagle.com
Contact
David Repas
+1 (615) 346-5253
david(at)finagle(dot)com