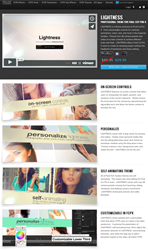 Our goal is to offer our users a wide variety quality themes and Lightness theme adds a new bright style to our growing library
(PRWEB) August 07, 2014
Final Cut Pro X motion graphics artists of themes and 3rd party plugins have announced a new Template the Lightness Theme from Pixel Film Studios
"Our goal is to offer our users a wide variety quality themes and Lightness theme adds a new bright style to our growing library." Says Christian Austin, Pixel Film Studios CEO. "Lightness theme has a bright style our users will love."
Lightness is a theme exclusive to Final Cut Pro X. Find customizable controls for cameras, animations, colors, text, and more in the inspector window. Choose from 48 camera presets and utilize on-screen controls to achieve different looks and feels. Lightness allows Final Cut Pro X users to create an amazing project without the headache of keyframes and heavy editing.
Lightness features on-screen controls that allow users to manipulate the depth, position, and rotations of the scene's elements. Simply choose the focal point for the camera by repositioning the adjustable puck and allow the theme camera to animate the rest.
Lightness comes with 4-drop zones for pictures and videos. Simply insert personal media files into the designated drop zones and choose an animation method using the drop-down menu. Choose a banner color, background color, and stylize the text. Lightness will do the rest.
All of Pixel Film Studios themes are self-animating. This means less time editing for Final Cut Pro X users. Lightness comes with over 48 camera presets varying from booming, sliding, sweeping, and dolly camera movements. LIGHTNESS showcases pictures and video brilliantly.
Lightness comes packed with customizable tools that allow FCPX users to create a full video production. Customize the parameters of Lightness' self-animating lower third, adjust the animation direction of Lightness' mesmerizing transition, and utilize the logo key to add a personal insignia to the video, all within FCPX.
Established in 2006, Aliso Viejo, California-based Pixel Film Studios is an innovative developer of visual effects tools for the post-production and broadcast community. Their products are integrated with popular non-linear editing and compositing products from Apple FCPX. All Apple, the Apple logo, Mac OS X, and Macintosh are registered trademarks of Apple Inc. in the U.S. and/or other countries. All other trademarks and trade names are the property of their respective owners.