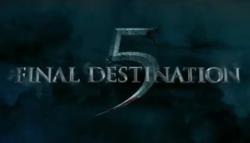 Final Destination 5 is 'pure formula in action' and the "death at a holistic spa is designed to delight anyone who secretly believes that acupuncture is the ancient Chinese term for 'torture by smiling sadist with evil needles.'
San Francisco, CA (PRWEB) September 07, 2011
Horror movie aficionados like to be scared—and the Final Destination series delivers what audiences expect: the unexpected. Final Destination's shtick is to make audiences squirm by throwing a bunch of red herrings at them, then killing off the characters in a surprising and inventive way. Unfortunately, the latest film, Final Destination 5, plays on the fears people have about acupuncture—which the American College of Traditional Chinese Medicine (ACTCM) in San Francisco believes may turn them off to the all-natural, chemical-free treatment they need for better health. The college wants to assure the public that the scene is pure fiction.
"We want to remind anyone interested in traditional Chinese medicine that Final Destination 5 is a blood-and-guts Hollywood horror flick, and every scene is designed to shock the audience," said Alissa Cohan, ACTCM's Director of Communications. "The acupuncture clinic scene is a gross misrepresentation of a patient's experience—from the danger of the table collapsing to the voodoo-style layout of the room."
The controversial scene depicts an acupuncturist fitting one of the characters, Isaac, with acupuncture needles then telling him she will return in 30 minutes. When she closes the door, embers from an aroma candle break off and land on some papers that instantly catch fire. Isaac screams, but no one can hear him, and when he tries to get off the table, it collapses and he lands face-down onto the needles. For the balance of the scene, Isaac's body is covered in blood and acupuncture needles jutting out in weird directions.
Film Journal International, a trade publication and website covering the motion picture industry, says Final Destination 5 is "pure formula in action" and the "death at a holistic spa is designed to delight anyone who secretly believes that acupuncture is the ancient Chinese term for 'torture by smiling sadist with evil needles.'"
Horror movies, and many other types of films, rely upon the audience buying into what is called a "willing suspension of disbelief." According to Wikipedia, this formula justifies the use of fantastic or non-realistic elements in works of fiction. It was put forth in English by the poet and aesthetic philosopher Samuel Taylor Coleridge, who suggested that if a writer could infuse a "human interest and a semblance of truth" into a fantastic tale, the reader would suspend judgment concerning the implausibility of the narrative. Suspension of disbelief often applies to fictional works of the action, comedy, and horror genres.
"If you want to be scared, go watch a scary movie—but if you want to feel refreshed and improve your health, traditional Chinese medicine is the way to go," said Cohan.
For more information about this topic, or for information about the school and its community clinics, call (415) 202-5713 or visit http://www.actcm.edu.
About the American College of Traditional Chinese Medicine
The American College of Traditional Chinese Medicine (ACTCM) has been at the forefront of educating student in Traditional Chinese Medicine in the Bay Area since its inception in 1980. Their two degree programs—the Master of Science in Traditional Chinese Medicine (MSTCM) and the Doctorate of Acupuncture and Oriental Medicine (DAOM)—provide a truly exceptional professional education.
ACTCM's community clinics serve as a diverse and demanding training ground for their students, while providing affordable health care services to the community. ACTCM's certificate programs in Tui Na and Shiatsu and its introductory classes for the public offer additional educational opportunities for current ACTCM students, healthcare professionals and the general public.
Bay Area acupuncture treatment, as taught by ACTCM, restores balance and health, and is used for everything from chronic pain to drug dependence. It is also effective for [allergy relief , weight loss , pain management and fertility treatment. During treatment sterile, disposable needles are inserted at acupuncture points along the meridians. Because of the thin and pliable needles used, most people feel little to no discomfort as the needles are inserted, and patients often feel energized or a deep sense of relaxation and well-being.
###