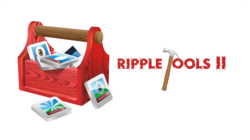 Boston, MA (PRWEB) May 28, 2013
Noise Industries, developer of visual effects tools for the post-production and broadcast markets, recently added Ripple Tools II to its arsenal of visual effects plugins. Available exclusively for Final Cut Pro X through FxFactory, Tools II is a set of 12 plugins that allow editors to quickly accomplish a number of effects and editorial tasks, bringing new life to footage. Users can add glows and rays to text and video, format and animate text along four different path types, remove unwanted pixels, create scrolls and claws, apply various retiming effects and use classic effects such as tri-tone, blink and vignette. A versatile and powerful effects plugin that will expand the editing toolbox, Ripple Training Tools II is now available for 39 USD.
More Info on Ripple Tools II Effects for Final Cut Pro X.
Ripple Tools II Feature Highlights Include:

Add realistic light rays to video, graphics and text using Light Rays. Use on-screen controls to change the ray direction and position; apply a lens flare that moves with the rays.
Text Path allows editors to format and animate text along lines, curves, circles and quadrilaterals.
Retimer creates echo-like copies on video; choose from three different repeat types: iterate, spread and streak.
Lens Blur creates a soft camera-like blur on video and still images. By enabling and adjusting the built-in mask and saturation controls, editors can create a tilt-shift effect.
Tritone allows users to create a classic three-toned color effect. Adjust the hue and saturation in the highlights, midtones and shadows.
Vignette creates a vignette effect with adjustable blur, darkness and saturation.
Create custom crawls and scrolls with optional drop zones for graphics or video. Drop zones can be static or animated.
Use Cloner to remove dust spots, dead pixels or other unwanted content from video footage. Editors can simply move the target over the area they want to remove, and then use the Clone Offset controls to cover the area with adjacent pixels.
Create dream-like looks using the Glow effect.
About Ripple Training and president, Steve Martin
Founded in 2002, Ripple Training Inc. is an online digital training and content distribution company specializing in software training products and plug-ins for postproduction professionals. Ripple Training was founded by editor and producer Steve Martin, who has over 18 years of experience as an editor, educator and producer.
About Noise Industries, LLC
Established in 2004, Boston, Massachusetts-based Noise Industries is an innovative developer of visual effects tools for the post-production and broadcast community. Their products are integrated with popular non-linear editing and compositing products from Apple and Adobe.