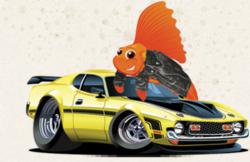 (PRWEB) August 21, 2012
RoadFish.com men's lifestyle and finance magazine today issued their recommendations regarding dividing up financial responsibilities between parents and students during the collegiate school year, and their take on this may help both students and parents to avoid financial mishaps due to miscommunication.
Claudia Buck of the Sacramento Bee recently reported that the financial burden of paying for a college degree is spreading to even wealthy or well-off families, with the Wall Street Journal reporting that between 2007 and 2010 the largest growth in student debt fell to upper-middle income families whose income fell between $94,500 and $205,000 per year. Buck's article recommends that families sit down with their college students and have a financial talk well before it's time to ship off to school for the fall semester, and clearly divide financial responsibilities. Some parents pay for things such as entertainment, housing and meals, while others strictly cover tuition and books. The article points out that it is important for students to know exactly what their financial responsibilities are so that they can take steps to meet them.
RoadFish.com likewise had some strong opinions and suggestions on financial planning for the collegiate school year. RoadFish.com's Senior staff writer is quoted as saying, "Far too often I see students taking out more than they actually need in loans, because they've been approved for more. For example, if they only need $12,000 to cover tuition but the bank approves them for $15,000, it's so easy to accept the extra money and use it over the course of the school year. But it's really hurting students in the long run because that's $3,000 extra that they'll have to pay back later. Instead, students could be taking on part-time jobs, or doing work-study programs, or even living back at home during the summer and saving up money with a summer job to cover extras during the year. That's why it's so important to create a budget beforehand, to see how much money a student will need during the school year, and then figure out a way to earn that money instead of borrow it."
In the above-mentioned article, Buck tackles the question of whether a student should have a credit or debit card at their disposal. The obvious debate is that students who use a credit card responsibly have the opportunity to build a healthy credit rating, but abused credit cards can lead to debt, late fees, and of course lead to a very low credit score. Families should discuss the best option for students, which might simply be going for a debit card, which allows students to spend only money that they have. The article included a quote from the Vice President of financial literacy site NerdWallet, Joseph Audette, as stating, "Your first credit card should not be used for spending; it should be used for building credit history."
RoadFish.com believes that credit cards can be a good tool when paired with a solid budget. RoadFish.com's Senior staff writer is quoted as saying, "Ideally what a credit card should be used for is to pay for things that you would normally buy, such as groceries, gas, and maybe a movie ticket. This way, you're building good credit while paying for things you would buy throughout the month anyway, and then the card gets paid off each month. This ideal situation can be done, but generally a budget is required to keep people on track and remind them what their monthly allowance for each purchase is. That way they don't put too much on the card, and are able to pay the balance each month. Excessive spending can result from not knowing how much per month you have to work with."
The above-mentioned Sacramento Bee article included a list of items that Kiplinger recommends college students do without in order to save some money during the school year. The list included things like cable television, a costly cell phone plan, a printer, private loans, a car, and brand new textbooks.
About RoadFish.com
RoadFish.com is a well-liked online men's magazine that encompasses topics of lifestyle, finance, travel and advice on dating for readers who are typically men in their 30's and 40's. Most RoadFish.com readers have generally already achieved a great deal of success in their personal and professional lives, and are seeking bigger goals. RoadFish.com men's lifestyle and finance magazine features articles about men's fashion, luxury items and vacations, hot chicks, food and hotel reviews, and financial tips like how to avoid identity theft. RoadFish.com is an online magazine that is owned and operated by Purpose Inc.