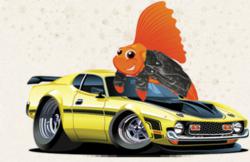 (PRWEB) October 14, 2012
RoadFish.com, a website that dedicates itself to educating male consumers on issues like finance, maintaining a good credit score, and online dating reviews, presents a post that offers the argument that proper financial education should be taught or offered to high school aged students in order to prepare them for life beyond the education institution. "Astonishingly enough, only 13 states within the U.S. have laws requiring students to take a class on personal finances in order to graduate from high school," says RoadFish.com's Senior Staff Writer.
With the U.S. economy in a state of turmoil, the article on educating high school students on finance is a timely and eye-opening one. "I believe that smart money knowledge needs to be instilled at a young level, something that can be done in school and at home, ways to avoid bad credit is essential," says the Senior Staff Writer of RoadFish.com. Indeed, the website presents supporting evidence of the serious situation in educating U.S. students on financial matters by referencing an article by Daniel Bortz of U.S. News. Bortz observes that, "High school students are studying up on calculus, advanced chemistry, and world history, but most aren't learning fundamental money lessons to help them financially navigate the real world."
For RoadFish.com, the goal of educating consumers on better, personal financial understanding is paramount to the site's success. "Smart money knowledge needs to be instilled at a young level," says RoadFish.com's Senior Staff Writer. By offering insight on some of the top issues facing consumers financially, RoadFish.com is placing itself on the path to be the go-to website for easy-to-understand financial education for high school students and adults.
About RoadFish.com
RoadFish.com lifestyle and finance magazine is an online men's magazine that commonly features articles on travel, lifestyle, and dating advice for men. RoadFish.com readers tend to be guys in their 30's and 40's, most of who have already set and achieved high personal goals for themselves, and are heading steadily towards a new goal. RoadFish.com men's lifestyle and finance magazine features stories on men's luxury items, vacation ideas, beautiful women, and information on managing budget and personal finances.