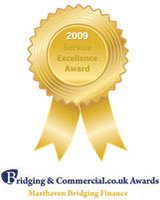 One of the longest standing lenders in the bridging finance sector
(PRWeb UK) December 12, 2009
Bridging and Commercial, the news portal for the Bridging Finance industry, has awarded the 2009 "Service Excellence" award to London-based short term lender, Masthaven.
The Bridging and Commercial Service Excellence Award is one of the most prestigious awards in the industry and was decided by a panel of bridging experts, including brokers who attended last month's Mortgage Business Expo.
Louise Fernley, Editor of Bridging and Commercial, said: "Masthaven was an obvious choice to win the 2009 Service Excellence Award. As one of the longest standing lenders in the bridging finance sector, it is highly regarded amongst brokers and always receives excellent feedback in terms of its service. Although surviving, and continuing to lend through an undeniably difficult year is an achievement in itself, Masthaven has gone above and beyond in providing a friendly, helpful and proactive service to intermediaries and clients alike. Congratulations to the Masthaven team on its well deserved win."
Masthaven's Managing Director Andrew Bloom said that "it is a great achievement for Masthaven to win this award. We pride ourselves on offering our introducers and their clients extremely high service levels. This is a fantastic tribute to the staff at Masthaven who work hard every day to meet the service standards that are demanded of us by the bridging finance industry. I look forward to 2010 and would like to thank everyone who helped Masthaven to achieve this award."
The "Lifetime Achievement" award also went to Masthaven's Sidney Cohen. The team at Masthaven pass on their congratulations to him on this award. Sidney is bridging loan consultant for Masthaven.
About Masthaven Bridging Finance: Masthaven has been operating as a principal lender since it was established in 1983. During this period the Directors of Masthaven have experienced every aspect of bridging finance, thus ensuring that we always provide high quality advice. We are innovative lenders who are looking to build long term relationships with our clients and intermediaries.
For more information, please contact Jason Fantini or Richard Deacon on 020 7643 4164
# # #