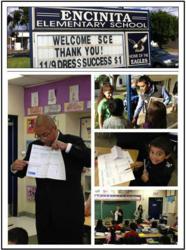 Since children identify school as a place where important learning is done, it's great that JA has created a mechanism through which they can also be exposed to financial literacy
Rosemead, California (PRWEB) November 29, 2012
SOFA member, Vic Clement is doing great things in his community!
If you are not familiar with Junior Achievement yet, it is an incredible international Non Profit organization whose mission is to bring financial literacy to classrooms around the globe. They do this by providing classroom programs led by JA Volunteers utilizing the amazing content packages they put together. Depending on age group they have lessons on entrepreneurship, managing a business, the benefits of higher education, and much more. They constantly seek professionals to act as volunteers in schools to show children a solid example of a business professional in the "real world".
Today, one of those volunteers was SOFA's own, Vic Clement!
Vic is located in the Southern California area, where he ventured to Encinita Elementary School in Rosemead, CA for an enlightening and special "JA Day". From 3rd to 6th grade, 17 volunteers managed to introduce the children here to financial topics that they might not have learned otherwise. Vic eloquently stated that "parents often don't have the time or where-with-all to provide foundational financial awareness to their children. Since children identify school as a place where important learning is done, it's great that JA has created a mechanism through which they can also be exposed to financial literacy". Here, at SOFA, we could not agree more!
SOFA's mission to end financial illiteracy in America, one community at a time, could not be more important in this moment. While Vic was working with a 3rd grade class on a topic called "Our City", he was pleased to see that the children were eager to participate in building their own city and learning how to read zoning of certain areas and tools of that nature. However, Vic's true joy came from the knowledge he was passing along to these children.
Vic became a SOFA member to help people gain a stronger understanding of their personal finances from his own experiences of seeing people around him fall into financial traps and hardship. His work with JA is an added bonus, and by the end of the day he said "it was very satisfying and rewarding experience that was topped off by a thank you letter that I [Vic] received, signed by each student from the class that I [Vic] taught". He was impressed by the dedication of other members, volunteers, and school staff, and enthusiastically awaits his next opportunity to work with Junior Achievement.