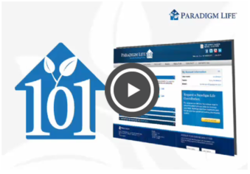 Infinite Banking 101 allows anyone to fully grasp the principles that have made the Infinite Banking Concept a success for over three decades.
Salt Lake City, UT (PRWEB) August 22, 2012
Paradigm Life has released Infinite Banking 101, a free self- study course. Now you can study at your own pace this time-tested financial system that few people even know about. Infinite Banking 101 is an educational curriculum through online video tutorials, podcasts and written material. You now can discover the world of
The Infinite Banking Concept and start creating financial freedom today.
The Infinite Banking Concept theory has been around for over one hundred years and was popularized 30 years ago by R. Nelson Nash through his best-selling book, Becoming Your Own Banker: Unlock the Infinite Banking Concept. In his book, Nash describes a unique way to set up and purchase dividend-paying whole life insurance from some of the oldest financial institutions in the USA. This unique set-up generates an immediate account that grows without incurring any form of tax. This account is fully available at any age, has guaranteed growth and by being a policyholder you become an owner in the insurance company that has over a 100 year track record of paying dividends. In addition, the insurance company guarantees you the RIGHT to borrow against your account at the most favorable loan terms imaginable. These benefits allow you to treat your personal, business and investment life as your own bank.
Infinite Banking 101 allows anyone to fully grasp the principles that have made the Infinite Banking Concept a success for over three decades.
There are very few that have heard of The Infinite Banking Concept and even fewer that really know how to use it effectively. Consulting with traditional financial advisors or insurance agents about Infinite Banking is difficult because of the overall lack of understanding. This is primarily due to the limited education and information on how to properly structure the insurance policy and properly use it.
Paradigm Life specializes in The Infinite Banking Concept – this is all they do and they are the experts in structuring these systems to meet their clients' needs. This includes but is not limited to personal, business, investment and real estate uses. Paradigm Life excels at explaining the various benefits found within Infinite Banking in a simplified manner, which helps clients make better decisions on how Infinite Banking can be utilized to reach their goals.
Until now, there has not been a comprehensive virtual self-study guide to The Infinite Banking Concept, especially one that is accessible to everyone. The lack of information, other than the handful of books that have been written, has contributed to the confusion of what Infinite Banking is and how it works. When explained correctly and comprehensively, The Infinite Banking concept is simple, logical and is able to be practiced by virtually anyone.
Infinite 101 will provide an easy to follow step-by-step guide to anyone wishing to learn. Registering on the website is also free. This online virtual resource provides all of the basic information needed for individuals to educate themselves about The Infinite Banking Concept.
Paradigm Life also offers a live education platform for potential clients. This education, like Infinite Banking
101 will provide specific information tailored to the potential client to both educate and create a plan based on their unique financial situation.
As Paradigm Life clients grow in their respective careers and establish assets and cash flow, the need for ongoing education is important. Clients will be provided with more information regarding the management of their plan as well as tools to ensure that every aspect of their financial plan is addressed. This information is available via a password-protected Client Portal called Paradigm Life Clients.
INTINITE BANKING 101 was created to ensure that knowledge and understanding regarding the Infinite Banking Concept is accessible to all without the pressure of having to meet with someone wanting to sell a financial product. Paradigm Life has been an advocate of educating all inquirers about the Infinite Banking Concept for many years, but this new resource provides an even further reach.
Learn more about Infinite Banking by using our free resource Infinite Banking 101
About Paradigm Life
Paradigm Life offers consultations and superior education on life insurance products that very few agents know how to properly set up and/or explain. Their system provides the MAXIMUM amount of living benefits when compared to other Whole Life Insurance products.
For more information about Infinite Banking 101, please visit http://www.ParadigmLife.net or e-mail info@paradigmlife.net or call us at 1-800-870-8670.
Stay up-to-date on Infinite Banking and Paradigm Life, Follow Us on Our Social Media Outlets:
YouTube: http://www.youtube.com/user/ParadigmLife
Twitter: https://twitter.com/paradigmlife
Facebook: http://www.facebook.com/paradigmlife