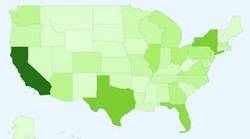 We saw a significant spike on 1/22 which sustained through the first week of February. Due to rate cuts, online inquiries rose almost 3x over the previous quarter monthly average
Orlando, FL (PRWEB) March 19, 2008
PersonalHomeLoanMortgages.com released a report of online consumer financial services trends based on an analysis of more than 150,000 prospective borrowers and policy holders. Of particular note was a significant drop off during the second half of February related to real estate loans despite overall increases in online mortgage loan applications over Q4 '07.
"We saw a significant spike on 1/22 which sustained through the first week of February. Due to rate cuts, online inquiries rose almost 3x over the previous quarter monthly average," according to Dexter Bayer, Metrics Analyst for PersonalHomeLoanMortgages. "Inquiries have declined slightly over the last half of the month, although we're still seeing an increase in volume of more than 50%. 90% of the inquires we're seeing are related to mortgage refinance, a huge shift over the 50/50 split between new home loans and refinancing that we saw throughout most of last year."
While traffic is up, consumer confidence seems to be dropping. "Website visitors are looking for information, and less likely to complete an online application in today's financial markets," remarked Bayer. "We're seeing conversion rates as low 50% of just three or four months ago -- consumers are just hesitant to pull the trigger."
Also of note is that more than 27% of searchers use geographic or local search terms to locate an appropriate financial services product, supporting the projected increase in online advertising to more than $12 Billion by 2012.
PersonalHomeLoanMortgages.com provides media metrics across major financial services categories including mortgage loans, debt consolidation and real estate.
The company provides local market information and mortgage broker directories for more than 30,000 localities in the United States. PersonalHomeLoanMortgages.com provides in-depth industry analytics reports and local market analysis for industry leaders and news organizations.
Article Source: Financial Services Applications Down as Consumer Confidence Drops
###