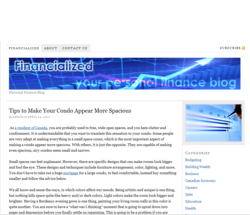 Understanding how to manage your personal finances better will give you an edge and will make your life much easier.
Toronto (PRWEB) August 15, 2012
Art Branch, Inc. announced today that Financialized.ca (http://www.financialized.ca) celebrates 2 years of blogging. The personal finance blog is intended for Canadians who want to find more about personal finance and budgeting.
While the global financial crisis of 2008-2009 has been gradually abating, many people are still in dire financial straits. Canadians needed a good personal finance blog to guide them in the world of finance, and this is how Financialized.ca was born.
"Personal finance is a topic everybody should learn about, no matter how much money they make. Understanding how to manage your personal finances better will give you an edge and will make your life much easier." said Peter Todorov, President of Art Branch Inc.
Financial literacy gives people the right tools to make good financial choices. Educated consumers are less likely to use high-interest credit cards and other costly means of borrowing. Financial education helps people to set realistic goals, develop spending budgets, and choose the most appropriate investment and savings methods. Informed consumers are able to understand financial matters, use and manage resources in their best interest, and improve their financial fortunes. At the same time, many people are unable to create a simple budget – a basic skill that can help them to control their expenses and avoid debt. Budgeting is a basic skill that puts one ahead of the crowd.
Truly, many people are interested to learn more about budgeting and personal finance but cannot afford to pay for a finance course. Others do not have the time to read a book or they are unsure where to start. A good personal finance blog summarizes the important finance topics and presents complex concepts in an easily digestible form. This is the goal of Financialized.ca, which was created as a personal finance guide for Canadians who want to manage their finances more effectively. Given that the Canadian educational system does not give people enough financial knowledge, personal finance blogs like Financialized.ca can go a long way in helping consumers to understand important financial topics.
About Financialized.ca: Financialized.ca is a Canadian personal finance blog that aims to deliver exceptional value to Canadians looking for personal finance information and tips.
About Art Branch: Art Branch, Inc., a Canadian corporation, publishes Financialized.ca and has produced several business oriented websites targeting Canadian audience. The goal of Art Branch is to provide visitors to company sites with free, useful guides, helping them to make educated decisions.