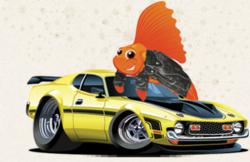 I think it's an incredibly valuable device that can help consumers think twice before doing something that may impact their credit negatively, that they might not have been aware of before.
Los Angeles, CA (PRWEB) December 19, 2012
RoadFish.com men's lifestyle and finance magazine today released a list of their favorite financial apps designed to aid consumers in their financial tracking and goals, as a response to findings in the Consumer Financial Protection Bureau's study. The report from the CFPB's study revealed that a consumer's credit card usage is the single most important factor in establishing their credit. RoadFish.com encouraged consumers to focus on repairing their credit in the New Year by concentrating on chipping away at debt, listing their favorite SmartPhone apps that may help consumer stay on track and meet their financial goals.
Molly McCluskey of DailyFinance.com reported that a study released by the CFPB last week analyzed data from the three largest credit reporting agencies (Equifax, TransUnion, and Experian) and found that credit card history is the dominant factor in determining a consumer's credit. According to McCluskey's article, updates to consumers' credit files are done monthly, and the breakdown is as follows: 40% from banks and credit card companies, 18% from retail credit cards, 7% from mortgages, and 4% from auto loans.
In light of consumer credit card usage being such a significant factor in determining credit, RoadFish.com has released its top picks for the financial apps that they feel could benefit consumers and help them keep tabs on their personal finances. RoadFish.com's Senior staff writer is quoted as saying, "StatisticBrain.com shows that, of the New Year's Resolutions made in 2012, the third biggest one was to spend less and save more—after losing weight, and getting organized. Of those who made resolutions, an estimated 34% were money-related. I think these are excellent goals, and January 1st is a wonderful time to start fresh. Some people may find it difficult to stay on top of paying bills, saving enough each month to pay off debt, among other financial hardships. There are so many tools available to consumers today to assist them in managing money and debt, I wanted to share a few of our top picks in hopes that they may aid people in achieving their New Year's resolutions—and developing good financial habits for the rest of the year."
RoadFish.com's favorite financial app is the popular, and free, Mint.com, which streamlines bank accounts, savings, accounts owed, and income. It alerts users when bills are due, when checking funds are low, and how much interest an account has accrued in a month. Mint.com charts spending into categories, so that the spender can visually see where money is being spent and what percentage is going where.
Another app that RoadFish.com recommends is Manilla, a free bill organizer and money manager. Like Mint.com, it will collect all accounts as well as outgoing funds, income, debt, and bills and show everything organized into one place. It can also keep track of things like travel and monetary rewards, as well as give automated bill reminders so that the consumer won't have to worry about getting past due on an account that could potentially negatively impact his or her credit report and score.
As a way to keep track of debt, RoadFish.com likes the Debt Minder app, available for $1.99. This app is designed to act almost like a financial advisor; it analyzes how much debt is owed, and at what interest rate, in conjunction with the cost of monthly bills and how much income is being earned. The app then gives a proposal to its user for an agenda designed to pay the debt off quickly, and with the least amount of interest. The app tracks the user's progress month by month and can operate based on the highest interest or the smallest balance debt payment plan, as determined by the user's preference.
A relatively new online tool that RoadFish.com likes is Experian's Score Planner, which is designed to analyze a consumer's current credit information and then showing that borrower how different events or scenarios could impact their credit. The 4 steps to using the Score Planner include filling out a brief survey describing the types of credit accounts opened, such as real estate, installment loans, and credit cards. The next step is to estimate the total credit limit for all credit cards, whether there are or have been any past due accounts, It's helpful to have the report present, as other questions include what is the average age of all accounts, and how many total accounts are listed on the credit report. Lastly, the Score Planner will predict the user's credit score, and show what might happen to the score if the user did things such as paying off all installment loans, applying for a new loan, making timely payments for a year but not paying off the debt, maxing out credit cards, and declaring bankruptcy.
RoadFish.com's Senior staff writer is quoted as saying, "The Score Planner tool takes less than 10 minutes to fill out, and really helps give users a good picture of different scenarios that will impact their credit. I think it's an incredibly valuable device that can help consumers think twice before doing something that may impact their credit negatively, that they might not have been aware of before. And it's easy to use, just a one-shot data entry that reveals a lot. You can use the Score Planner TV-watching, on a lunch break, or any other time where you have 10 minutes available to do something really valuable for your credit."
According to the above-mentioned Daily Finance article, the CFPB study found that less than one in five consumers obtains annual copies of their credit report, whether they be free or paid copies. The Fair Credit Reporting Act entitles all consumers free access to their credit reports once per year through the major credit reporting bureaus.
About RoadFish.com:
RoadFish.com is an online men's magazine that concentrates on lifestyle and financial articles, offering dating advice to men as well as other current topics of interest to male readers in their 30's and 40's. RoadFish.com supplies counsel and recommendations on such financial topics as credit card and debt advice, in addition to reviewing men's luxury items and trendy restaurants. RoadFish.com is owned and operated by Purpose Inc.