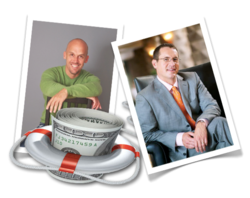 Most people don't realize that taxes are their biggest expense in life
Los Angeles, CA (PRWEB) December 05, 2012
In the interest of improving and augmenting his teachings of real world financial freedom practices, Theriault sought out the best in the business to move his asset protection and tax strategy lessons to an expert level.
Matt Theriault, entrepreneur, author and full-time real estate investor teaches principles of financial freedom via his website (http://EpicProfessionals.com) and iTunes podcast (http://EpicRealEstateInvesting.com). The foundation of Matt's financial lessons is akin to Robert Kiyosaki's Rich Dad Poor Dad's exiting of the proverbial "Rat Race" (i.e. increase passive income and decrease expenses) using cash flow real estate investments.
"Being a full-time real estate investor, I have a strong grasp on the multitude of methods one can use to create passive income investing in real estate. Creating passive income has become second nature for me. However, staying up to date with tax law is seemingly a full-time job of its own for which I don't have the time. So, I consult a few times a year with whom I consider to be the best in the business of tax law and strategy, Mark Kohler," says Theriault.
"Most people don't realize that taxes are their biggest expense in life. If someone wants to cut their expenses, it never made sense to me to follow the advice of the Suze Orman's and David Ramsey's of the world and begin by cutting out all of the luxuries of life and live below one's means when we can have the best of both worlds... low expenses AND many of the finer things in life," explains Matt. "Mark [Kohler] has taught me how to live that life, and I want my students to learn how to do the same. Rather than reinvent the wheel, it just made sense to align myself with Mark and let him do the teaching. Besides, he's the licensed expert in this field."
In addition to Mark Kohler lending his expertise in Theriault's Epic Wealth Saver Course(a FREE course that can be accessed at (http://EpicWealthSaver.com), Kohler's CFO in a Box has recently been made available through Theriault's Epic Pro Academy. The two intend to deliver indefinitely the many lessons of financial freedom via Theriault's multiple streams of media.
"It's tough to get people excited about tax strategy in the beginning of their investing careers, but once they start making money... tax strategy and planning can be just as thrilling as the investing itself," Theriault shares. "The unfortunate part is that most don't realize it until a few, if not several, thousands have been unnecessarily sent to Uncle Sam."
People looking to create financial freedom can learn more about Matt Theriault and his new alliance with Mark Kohler at http://EpicProfessionals.com or by calling his Los Angeles office directly at (213) 587-0084.