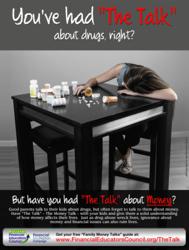 Los Angeles, CA (PRWEB) May 03, 2012
There is a close link between financial illiteracy and drug use, according to the National Financial Educators Council. Financial issues are a leading cause of stress; and stress is a leading cause of unhealthy coping behaviors. "Drug use and alcoholism have direct ties to one's financial stress, and lacking a financial education can contribute to ones monitary worries," states Vince Shorb of the NFEC.
The Hanley Center, a drug and alcohol treatment and recovery center acquired by Caron Treatment Centers, confirms the NFEC's statement. They found economic stress, financial stress and retirement were also cited as contributing factors to dependency. Although the aforementioned organization show a connection between drug abuse and personal finances, the NFEC contends that parents are doing little to proactively address the problem.
According to a national study by the Partnership for a Drug-Free America, 98% of parents in America say they've talked with their children about drugs; however, only 27% of teens say they're learning a lot at home about the risks of drugs. A recent Huffington Post article noted, "While parents seem to agree that having the "drug talk" is relatively easy to do, having a meaningful conversation about money is harder. Much harder. According to a new study from investment firm T. Rowe Price, only 7 percent of parents said the drug talk was hard to have, but that number jumped to nearly 20 percent when parents were asked about how it felt to talk to their kids about money."
Besides encouraging parents to have 'The Talk' with their kids about personal finance topics, this campaign provides complimentary money management material as part of the Financial EduNation Campaign. This initiative provides resources for educator, parents, individuals, the community and money management for kids material.
The NFECs' Financial EduNation Campaign provides financial literacy resources as it raises awareness about the financial literacy movement. The Talk PSA is part of the Financial EduNation Campaign and seeks to motivate parents to have 'the money talk' with their kids about money.
Aaron Meyers Photography provided the youth photos and creative design for The Talk financial education awareness campaign. "We thank Aaron Meyers for his passion for the financial literacy movement and vision in creating a campaign that will encourage parents and others teach kids about money," states Vince Shorb of the NFEC.
The National Financial Educators Council is a social enterprise organization dedicated to improving the financial capability of people around the world. The NFECs' Financial EduNation Campaign delivers a high-profile awareness campaign that features The Talk financial literacy PSA and top celebrities to build momentum for the financial literacy movement. This campaign also provides financial literacy resources, tools and training to assist schools and non-profit organizations to share the message of financial literacy with people in their community.