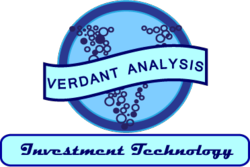 This infographic illustrates how compound growth can be used to grow wealth.
Hamilton, Canada (PRWEB) February 06, 2013
Verdant Analysis, developer of financial modeling and investment analysis software, today published the second of three financial infographics focusing on compound growth.
Part Two focuses on the personal financial implications of compound growth, how it impacts wealth, and how it can be used to increase it. The infographic identifies two key equations of wealth, the balance sheet equation of Assets – Liabilities = Equity, which they call the wealth equation and the wealth growth equation, which calculates equity growth. The later equation is equal to the sum of the weighted averages of asset growth and liability growth.
According to the infographic, both equations impact wealth and individuals can alter their wealth profile by understanding and tweaking the constituent parts. Improving either equation is beneficial, but enhancing both greatly increases the positive effects of compound growth.
The infographic also discusses the concept of "zero-time" a calculation that determines the time it takes for equity to reach zero when it is positive but declining or negative but growing.
"We're quite pleased with this infographic," says Jennifer Cameron, CEO. "Our first was inspired by the work of Dr. Albert Bartlett, and it basically presented his work in a financial context. This infographic illustrates our application of compound growth and how it can be used to grow wealth."
The first infographic released on January 29, 2013, explained the concept of compound growth in practical terms. Specifically, it elaborated on the work of Dr. Albert Bartlett, University of Colorado, and the concept of "doubling time" as it applied to finance. Part three will take compound growth concepts and apply them to investment analysis and financial modeling.
The infographic can be found on the company's Facebook page and on the company's blog.
About Verdant Analysis (http://www.verdasis.com)
Verdant Analysis develops technology for intelligent investment decision making. Our software allows users to build financial models, ratios and regressions using financial statement and market information and to apply the models, ratios and regressions to portfolios of securities. This helps users perform financial or fundamental analysis more quickly and to screen securities according to the algorithms they've developed. Our mission is to help investors and financial professionals obtain superior insight into publicly-traded companies, with the outcome of improved investment decision making.