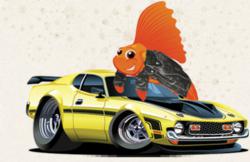 New York, NY (PRWEB) October 10, 2012
RoadFish.com men's lifestyle and finance magazine today released their observations regarding the steep learning curve that high school students must deal with regarding lessons in personal finance, a result of the lax state laws surrounding financial education in high schools. RoadFish.com's take on this matter may help pinpoint the holes in financial education of youngsters, and reveal why financial literacy at a young age is so pivotal.
Daniel Bortz of U.S. Money reported that many high school students are graduating without having been taught basic financial lessons as part of their high school education. Bortz states that only 13 of the 50 U.S. states have laws requiring students to take a personal finance class in order to graduate from high school. The article highlights Los Alamitos High School in Orange County, CA, as being a top-rated school with no requirements that its students take a personal finance class before graduation.
RoadFish.com believes that a solid understanding of basic finances is something that needs to be instilled in children and students early on. RoadFish.com's Senior staff writer is quoted as saying, "It's actually pretty appalling to me that so many states can overlook such an important topic. Look what happens when money mistakes are made. You don't have to look very far—our country's economic state isn't so hot, consumers are buried in all kinds of debt, and don't even get me started on the student loan situation. Clearly, Americans are in need of some sort of financial schooling, and I am a big believer in doing it early on, at the high school level. It's scary to me that kids are entering college with no knowledge of what a credit rating is, or of how to balance a check book or keep a budget."
In the above-mentioned U.S. Money article, Jessica Pollack, mother of 18-year-old Adam Pollack who is a recent graduate of Los Alamitos High School, expressed her displeasure with the lack of financial education in such a good school. Jessica Pollack is quoted as saying, "It's a top-rated school, but there is no personal finance requirement, which is just astonishing to me. There's a technology requirement that's statewide. As a technology teacher, I appreciate that, but these kids are exposed to computers and technology all the time. Yet when it comes to buying the computer and financing it, they're clueless."
Pollack is not the only parent who is worried about her child's financial knowledge deficiency. The U.S. Money article states that MasterCard performed a survey in August during which 64% of parents who have children heading into college are concerned about their skills and abilities to manage personal finances.
RoadFish.com would like to see more action on the part of parents to encourage schools and states to incorporate more personal finance classes into school curriculums, along with a stricter requirement for students to take them. RoadFish.com's Senior staff writer is quoted saying, "We need to step up and take more responsibility for the financial education of our children, and I'm talking on a home level just as much as a school level. We need to give the younger generations skills and knowledge to take with them into the real world, to avoid making potentially costly money mishaps once they're out of the protective bubble of home. I doubt high school students realize the value of a good financial education, but we as parents should, and we should fight for our kids' right to have that education."
According to Bortz's article in U.S. News, Sallie Mae recently conducted a poll which revealed that 84% of high school students would appreciate more education aimed at teaching them financial lessons. And according to a 2011 Charles Schwab survey, 86% of the 16-to-18-year-olds that were polled stated that they would prefer to learn money management skills at school than to potentially make financial mistakes later on in life.
About RoadFish.com
RoadFish.com men's lifestyle and finance magazine is a popular online magazine whose articles about travel, dating, and luxury items keep men intrigued. RoadFish.com readers are generally men in their 30's and 40's, and the majority have already achieved high personal goals in life. Most readers are passionate about accomplishing a new personal or professional goal for themselves. RoadFish.com lifestyle and finance magazine features stories on men's luxury items such as clothing and watches, trendy vacation ideas, hot chicks, and personal development. RoadFish.com is owned and operated by Purpose Inc.