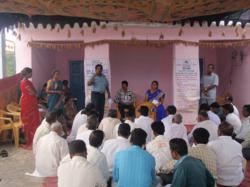 Los Angeles, CA (PRWEB) November 20, 2012
One of the 35 states of India has entered into world financial education stage as the first village to receive a financial education program conducted by ENNELA Nipunaalaya (skills academy), training vertical of ENNELA Welfare Association with the support of the National Financial Educators Council.
The first financial literacy program in India through this partnership was held on 21st October, 2012 and hosted over 50 participants from the village - Sriranga Varam, one of the remote illiterate villages of Ranga Reddy district, Andhra Pradesh. The one day program ran from 10:00 am to 4.30 pm and five modules were delivered by three different personal finance speakers. Mr. Bhanu Murthy, Mr. B.K.Rao and Mrs. K.Padmavathi were charged with teaching financial literacy to the 50 most influenced persons from the village who were invited as participants. Mrs. Madhavi Latha, manager, Dabilpur branch, SBI attended as chief guest and Mr. V.Narender, special officer of that village, also attended as guest of the day and appreciated the initiatives of ENNELA particularly the financial literacy program in India through partnership with NFEC, USA.
ENNELA's goal is to serve over 1862 villages across India with financial literacy training. The success of the first event has helped to improve interest in the funding and sponsorship of the expansion of this program to help more individuals and communities. Through the National Financial Educators Councils social enterprise business model, ENELLA received the educational material, Certified Financial Education Instructor training, financial literacy books and support to help launch this initiative. Now they are actively seeking sponsors and donors to offer this valuable service.
"We commend ENNELA, Bhanu Murthy and the entire team for their efforts in bringing financial literacy to India. Their dedication to serve those that need personal financial training the most has made an impact on the lives they served through this inaugural event. It is our hope to see this program grow and sustain itself over time," states Vince Shorb of the National Financial Educators Council.
The participants asked lot of questions and as the class continued their ability to question improved. Finally all the stakeholders, faculty, participants, guests, part time visitors and vagabonds are also actively participated and expressed their happiness about this strange experience with such a new program.
ENNELA Welfare Association, partner to NFEC, USA is the BC (Business correspondent) to SBI in financial inclusion project, Government of India. ENNELA has been implementing banking operations in various villages in Andhra Pradesh. SBI was allotted with 1862 villages (1381 are > 2000 population & 481 are >1500 <2000 population villages) and ENNELA has been implementing kiosk banking operations in nearly 100 villages. Other BC entities and individual BCs are executing in remaining villages.
The National Financial Educators Council (NFEC) supports financial literacy initiatives on a global level. Financial literacy resources and training developed by the NFEC give people around the world the financial knowledge and confidence to take effective action—the actions that best fulfill each individual's personal, family, and global community goals. The NFECs' expansion to deliver personal finance in India represents one of their efforts to strengthen the global economy through improving the financial capabilities of individuals.