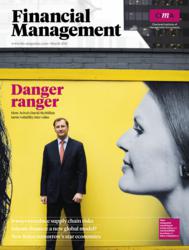 With our multiplatform offering, CIMA members will have access to a wealth of tailored information, data, ideas and knowledge. With the creative and commercial talent at our disposal, we believe we can take CIMA on to meet its ambitions as a global player.
London (Vocus/PRWEB) 16 March 2011
Seven, the award-winning content agency, has won a major contract, which sees it managing the entire media portfolio of the Chartered Institute of Management Accountants (CIMA).
Following a competitive pitch, Seven has taken on the publishing of the monthly business-to-business magazine Financial Management, as well as the quarterly thought leadership journal, Excellence in Leadership. The deal also involves management of the CIMA MYJOBS portal. Seven is responsible for creating all content, generating all revenue across CIMA's media channels, including the website, email activity, events, sponsorship and direct mail. The four people working in CIMA's commercial department will transfer to Seven as part of the contract.
With a growing number of 183,000 across 164 countries, CIMA members are just as likely to work for SMEs as they are for multinationals, making them arguably one of the most important workforces in the international business community.
To keep pace with global membership growth and to remain relevant to students, CIMA opted for Seven's multiplatform communications strategy. The first phase of this has been to develop a Financial Management microsite, which was launched in January and followed by a revamped Financial Management magazine. The refreshed first issue of Excellence in Leadership will be out in April.
Seven is currently developing a mobile-specific navigation and page-template to allow CIMA members to search, access and share content from a range of mobile devices, including smartphones and tablet devices. The final phase will be to develop CIMA's social media offering to promote discussion, and to share knowledge.
This fully integrated communication strategy allows CIMA to offer members a meaningful benefit delivered by their preferred media channel. It also provides CIMA with production and distribution savings and new revenue streams.
Research shows that many CIMA members are unaware of the full range of its activities. Part of the rationale behind awarding the contract to Seven is that this will improve significantly, along with the quality of the content itself.
Sean King, CEO at Seven, said: "We want to work with the best brands in every sector of our industry. CIMA is at the core of the most successful professional membership in the world. Their members are growing in the Far East and all the major growth markets, and we are very excited to be working with them. With our multiplatform offering, CIMA members will have access to a wealth of tailored information, data, ideas and knowledge. With the creative and commercial talent at our disposal, we believe we can take CIMA on to meet its ambitions as a global player, shaping its true brand heritage in a way that members and students can more positively relate to."
Ray Perry, Executive Director, Brand, Profile and Marketing, CIMA, said: "Financial Management, the institute's high-profile monthly magazine with a 170,000 circulation, is held in high regard by readers across the world and is key to us reaching our members. Seven has great editorial and design flair and understands how to give our publication a truly global feel. We look forward to working with them on this magazine and across our entire portfolio."
The B2B professional association sectors are a growing market for Seven. Clients in this space are now recognising the fact that they can work with the very best content agencies, to add value to their activities and engage their members more effectively. In 2011, this will be a real focus for Seven, as it capitalises on the success of 2010.
Contact at Seven:
Shareena Ali
PR
Seven
3-7 Herbal Hill
London
EC1R 5EJ
Tel: 020 7775 5549
Email: shareena(dot)ali(at)sevensquared(dot)co(dot)uk
Contact at CIMA:
Claire Grewer
Press Officer, CIMA
T. +44 (0)20 8849 2300
E. claire(dot)grewer(at)cimaglobal(dot)com
About Seven

Seven is an award-winning multichannel content agency.
Experts in creating intelligent, relevant and effective content across multiple channels, including magazines, websites, social media, interactive ezines, video, iPhone and iPad apps.
Clients of Seven include Virgin, Sainsbury's, CIMA, English Heritage, Grant Thornton, Guardian Media Group, Lloyds Banking Group, New Look and Waterstone's.
For further information: http://www.sevensquared.co.uk or contact Shareena Ali, PR Manager, Shareena(dot)ali(at)sevensquared(dot)co(dot)uk 0207 775 5549.
About CIMA
The Chartered Institute of Management Accountants, founded in 1919, is the world's leading and largest professional body of Management Accountants, with 183,000 members and students operating in 168 countries, working at the heart of business. CIMA members and students work in industry, commerce and not-for-profit organisations. CIMA works closely with employers and sponsors leading-edge research, constantly updating its qualification, professional experience requirements and continuing professional development to ensure it remains the employers' choice when recruiting financially-trained business leaders.
CIMA is committed to upholding the highest ethical and professional standards of members and students, and to maintaining public confidence in management accountancy. CIMA is proud to be the first professional accounting body to offer a truly global product in the fast-moving area of Islamic Finance.
According to independent research conducted by the University of Bath School of Management, CIMA's syllabus and examination structure are the most relevant to the needs of business of all the accountancy bodies assessed. See the CIMA Difference report for further information at http://www.cimaglobal.com/thecimadifference.
For more information about CIMA, please visit http://www.cimaglobal.com.
Follow us on Twitter at http://www.twitter.com/CIMA_News.
###