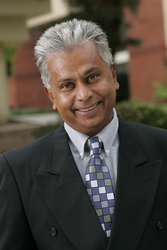 They are not putting their lives on hold because they are doing their duties abroad. They have drive and vision - and they will make excellent financial planners.
Thousand Oaks, Calif. (PRWEB) August 11, 2008
California Lutheran University's Institute of Finance is attracting military students into its nationally recognized online MBA in Financial Planning Program (MBA FP). The only online MBA program of its kind in the U.S., approximately 15 students are enrolled while deployed overseas in England, Germany, Iraq, Italy and other locations.
"These students, who mostly hold officer ranks, know that they are going to transition from the Armed Forces into a civilian role and they are planning for it," said Dr. Somnath Basu, director of CLU's California Institute of Finance. "They are not putting their lives on hold because they are doing their duties abroad. They have drive and vision - and they will make excellent financial planners."
The California Institute of Finance (CIF), housed within California Lutheran University's School of Business, offers a unique MBA program. Classes are not only available online, but the degree includes both the traditional MBA courses as well as the required financial planning dedicated courses that are required for eligibility to sit for the Certified Financial Planner™ exam. The online courses are offered year round in five, eight-week terms. The accelerated format allows students to complete the program in less than two years, if desired. The courses also offer a weekly virtual live chat. If a student overseas cannot make the chat due to the time difference, they are recorded and archived so students can listen on their own time.
"There is no difference in the quality and quantity of the work between our online and on campus programs," said Basu. "In fact, we have proven that the online graduate program is as rigorous, if not more so, than any other campus program. The quality of this program is reflected in our outstanding students that come to us with undergraduate degrees from top-ranked universities, such as Princeton, Stanford, Georgia Tech and more."
Wallace Larson is a 21-year U.S. Army veteran stationed in Heidelberg, Germany. He is a trained aviator who is currently the office manager for senior Army officers. He is also an online MBA in Financial Planning student at California Lutheran University. During the past two years, he even completed courses while stationed in Iraq.
"It has been challenging, said Larson. "I have had some periods with very long work hours that have been difficult to get in studying. However, I was able to do it and still take three or four courses during my last deployment to Iraq. The school and quality of the instructors make it worthwhile. The students are also a cut above and committed to learning." Larson has nearly completed the program and expects to transition to financial planning in the next nine months.
Basu says an MBA in Financial Planning is an excellent choice for military officers. They have sound decision-making skills and are considered to be honorable, ethical and strong in character.
Finally, Basu says that young soldiers with limited financial education are frequently victims to people posing as financial planners and get into trouble with credit issues and debt. "If more retired military personnel worked in financial planning they could help the younger soldiers make better financial decisions for themselves. They would trust them with their money because they trusted them with their lives."
Although CLU's California Institute of Finance has provided outreach to the local naval bases, Basu and his staff are working to expand awareness to all military bases. Discussions are underway with USAA military affairs regarding a potential partnership. The Institute is seeking to partner with United Way to develop and deliver a basic financial management program, "Banking and Budgeting 101" to educate low income families in the benefits of mainstream banking.
CLU's California Institute of Finance was awarded the "Best Practices Silver Award for Online Distance Learning Programming" by the United States Distance Learning Association in 2007.
###