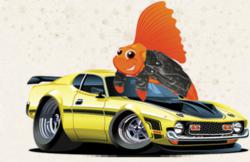 I myself know many people who are concerned about being eligible for great rates on loans, or even eligible for a loan in the first place, because of their credit score.
New York, NY (PRWEB) May 13, 2013
RoadFish.com men's lifestyle and finance magazine today issued their observations regarding the results from a recent survey conducted by Gallup.com in April which showed that Americans are less worried about finances as of April 2013 than they have been since April of 2007, or in other words before the recession completely hit. RoadFish.com was happy to see the heightened numbers, but believes that Gallup may have left out a significant potential topic of financial worry: consumer credit reports and credit scores.
Jeffrey M. Jones of Gallup.com, a self-proclaimed "data-driven" news source covering news, politics, and the economy reported that according to the Economy and Personal Finance survey, which Gallup has conducted each year in April since 2001, Americans' financial worry is down to 53% from 61% last year. This year's number of 53% also represents the lowest that Americans' financial worry has been since before the recession, when it was at 45% in 2007. The results were released on May 6th, 2013.
The Economy and Personal Finance survey polls Americans on seven different financial topics unique to each consumer, including paying monthly bills, saving for retirement, saving for their kids' college tuition, medical costs, and making the minimum payments on credit cards. Gallup asks polltakers how much they worry about each of these different categories, and creates what they call a "Financial Worry Index" around what the responses. A polltaker would get a score of "0" if they did not worry about any of the topics and a "7" if they were concerned about all of the topics.
RoadFish.com was happy to see that Americans are feeling less concerned over finances this year than in previous years, however believes that Gallup may be missing out on one potentially significant source of financial worry in their survey. RoadFish.com's Senior staff writer is quoted as saying, "What I want to know is, where is the question asking folks about their credit scores? I myself know many people who are concerned about being eligible for great rates on loans, or even eligible for a loan in the first place, because of their credit score. And I actually personally know two people who have word-for-word said to me, 'I am afraid to even check my credit score for their fear of what it might show.' To me, this seems like a big issue. Credit scores are not just used for loans, either. Landlords look at potential tenants' scores, employers look at job applicants' scores, I mean the credit score is sort of a big deal in our country."
According to the above-mentioned article, Gallup does modify the survey every now and then, as they did in 2007 when they added the question of how concerned consumers were with "not having enough money to pay for your children's college." According to this year's poll, Americans are most concerned about their retirement savings and their ability to pay for medical expenses if an unexpected medical emergency or long-term illness were to arise. Apparently Americans are least concerned with being able to make the minimum monthly payments on their credit cards.
About RoadFish.com:
RoadFish.com is an online men's magazine whose focus is on lifestyle and finance topics of interest to male readers in their 30's and 40's. RoadFish.com commonly features articles about dating, hot chicks, restaurant and hotel reviews, and which dating website is the best. RoadFish.com also covers financial issues such as debt, budgeting, personal finance, and specialty pieces like why baby boomers still need good credit scores. RoadFish.com is owned and operated by Purpose, Inc.